Transactional emails are, in short, any emails that result from a transaction. They are emails sent when a user or customer takes some action and contain information that's relevant to that action. This could be an order receipt, shipping confirmation, or password reset.
How Do They Differ From Marketing Emails?
It isn't necessary to have subscribers or recipients to opt-in to receive transactional emails. This is because these emails contain information related to an action a recipient has made. In contrast, marketing emails require the recipient to opt-in so they receive them, such is the case for email newsletters and product updates.
While the definition of a transactional email is fairly clear cut, they can—and often should — contain some elements from marketing campaigns such as logos, styles, and product shots, when needed. However, it's strongly recommended that you keep a distance between your regular use of marketing emails and transactional emails.
Unlike promotional emails which are bulk distributions of the same marketing message to many recipients simultaneously, transactional emails are personalized and typically sent to individuals one at a time with relevant information related to this recipient's actions.
Transactional Emails forms a distinct Channel, with its own Flow Step, Condition type, Report, and Activity Export channel. This clearly separates it from traditional marketing emails.
Getting Started
In order to get started with sending Transactional Emails, create a new Verified Domain for this purpose. Once the domain has been verified, simply click 'Use for Transactional Emails', read through the Terms and Conditions, and click 'Accept'.
Please note that, in order to use a domain for sending Transactional Emails, it must not have previously been used to send marketing emails. This is to ensure proper deliverability for transactional emails, as they must adhere to strict restrictions of content & intent.
Read more about creating Verified Domains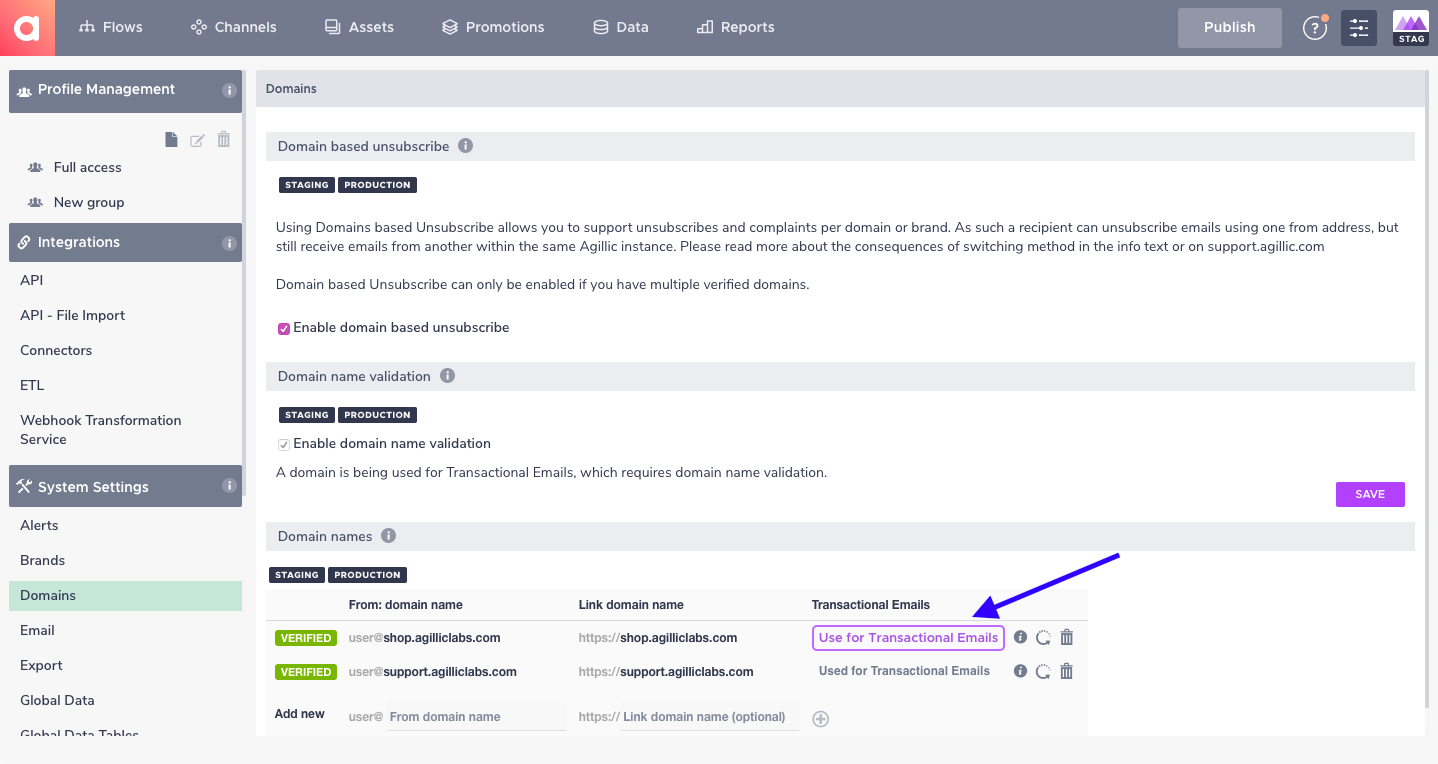 Marking a new Verified Domain to be used for Transactional Emails
You're now ready to create a Transactional Email and Flow. Transactional Emails and Flows are created in a similar fashion to traditional emails and Flows.
Please note that in the rare occurrence of planned or unplanned downtime, please ensure that your transactional email triggers apply retries. In this way, your transactional flows are less likely to be affected by any downtime during upgrades. This also applies to your marketing communication but can have larger implications for the transactional flows.
Examples of Use Cases for Transactional Emails
As mentioned above, a Transactional Email is typically sent as a result of a recipient's interactions. Below, we've given some examples of use cases for Transactional Emails.
Forgot Password
If a recipient subscribed to your website forgot their login or password, they need to be able to request a new one.
For example, if you're a subscriber to the Agillic Candy Store, you get a personal account which you need to log into. If you've forgotten your password, you can click 'forgot password' and the Agillic Candy Store will send a transactional email to you. The transactional email will confirm that your password needs to be reset and let you create a new one.
Two-Factor Authentication
Some companies use Two-Factor Authentication to provide extra login security. This requires users to access a verification code sent via email.
Let's say that Agillic Candy Store has Two-Factor Authentication enabled as an extra security measure. When you log in on your account on the Agillic Candy Store website, a Transactional Emails sends the Two-Factor Authentication code to complete the login process.
Email Address Verification
You may need a recipient to confirm their email address, ensuring their identity. This could be in situations such as a recipient requesting a new password or verifying the email when subscribing to a new platform. A Transactional Email can be sent to your recipient so they can verify their email address.
When your recipients verify their email addresses, you also confirm that the recipient data is up to date. This reduces the number of hard bounces in the future, increasing your deliverability.
Order Confirmations, E-Receipts, and Shipping Notification
When making purchases recipients may require an order confirmation and a receipt as well as information about when their purchase has been shipped. Transactional Emails are perfect for this scenario, making sure your recipient gets important information and feels that they're being updated about their purchase.
For example, a recipient may have just made a purchase on the Agillic Candy Store website. Once the recipient makes their purchase, they receive a Transactional Email which is their order confirmation. This is sent as soon as the Agillic Candy Store has received the order and withdrawn the money from the recipient's account. The recipient could receive another Transactional Email when their order is ready to be shipped.
Acceptable Use Policy Updates
If your company has any changes in policies that are necessary for your recipients to know about, a Transactional Email can be sent to inform your recipients about these changes.
In order to determine whether an email can be transactional or not, here are some guidelines that might help you. An email is probably transactional if any of the below statements are true:
Your company has a legal obligation to deliver this email to the recipient
The recipient expects to receive this email, due to a direct action by them, without them providing marketing permission
The email is related to a recipients's purchase or delivery of your product
Regardless of why the email is transactional, there are certain things you need to be aware of:
The primary content of a transactional email should always be regarding the same justification used to send it
Ensure that any marketing content in an otherwise transactional email adheres to the recipient's local laws and regulations. If you are in doubt, ensure you own legal department approves such a communication
Let's say that the Agillic Candy Store has made changes to their terms and conditions and need to reach all subscribers to give them this information. Transactional Emails could be used for such matters, in order to give all recipients this information at the same time.