Agillic's tracking script allows you to track activity on an external website. It does this by implementing tracking script into the header of the website through a cookie. Once set up, when a recipient clicks on a personal outbound communication or Portal page, the tracked data is linked to that recipient. This could be useful for tracking the activity on your own website.
To set up the tracking script, you need a valid domain name set up in Agillic. Once Agillic has verified your domain, Agillic can generate the tracking script which you can insert into the header of your website. Once you send your communications using the verified domain and link to the website you're tracking, Agillic will then be able to store data for your recipients' activity on the website.
The saved activity will link to Agillic recipients once a link is established between the tracking data for a device and a recipient logging in on the same device.
It's important to know that the tracking script can't evaluate tracking script conditions for recipients on a Staging environment.
How to Set Up the Agillic Tracking Script
Before you begin, make sure that you have set up a verified domain on your instance. Learn how to set up a verified domain here. Then, follow the steps below.
Log in to Staging.
Enter the Settings module by clicking the icon in the top bar.
Under 'System Settings, select the 'Web' subsection.
Check the checkbox that reads 'Enabled recipient/visitor tracking'.
Select the tracking script for the domain you want to use.
Copy the tracking script from the work area into the header of the desired webpage(s) that you would like to track.
Now, you're ready to send communications that link to your external webpage. Remember to send from one of your verified subdomains so you're able to track your recipients successfully. Once Agillic starts receiving data, the counters below the tracking script will begin counting up.
Each tracking script can be viewed by choosing the relevant domain. All unique tracking scripts are active even if they're not currently selected.
For tracking via your website, copy the top Tracking Script into the header of your website. For tracking via Google Tag Manager, use the bottom Tracking Script.
If you delete the domain you're using for tracking, you will lose all tracking data.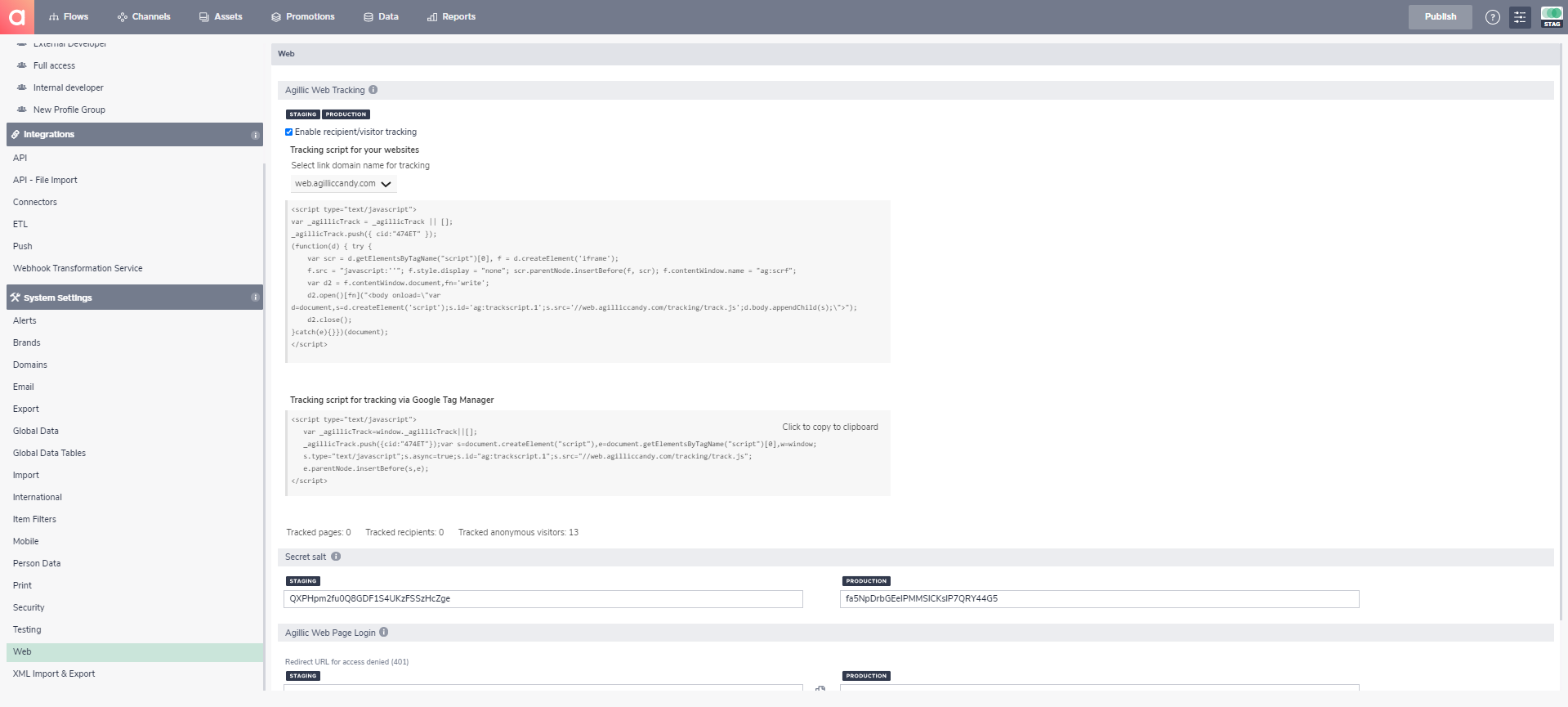 The Tracking Script ready to be copied to an external website or Google Tag Manager
Suggested Next Steps