In Agillic we have focused on the further tuning of our technology stack to improve performance, robustness and scalability. Furthermore, we have reached a milestone in the re-write of the UI to HTML - the Data section has now been re-written. Some new features have been implemented. Among these are Language versioning of Content Items as well as a new Password Security setting.
UI
We have adjusted the names of each section and added a button called SUPPORT, which links to the Agillic Support Customer Portal and furthermore added a more obvious LOGOUT button.
DATA section re-written to HTML
Getting away from Flash as fast as possible to improve overall performance and robustness. There are a lot of changes - most of them are the interface and navigational changes. Minimal functionality has been changed or removed.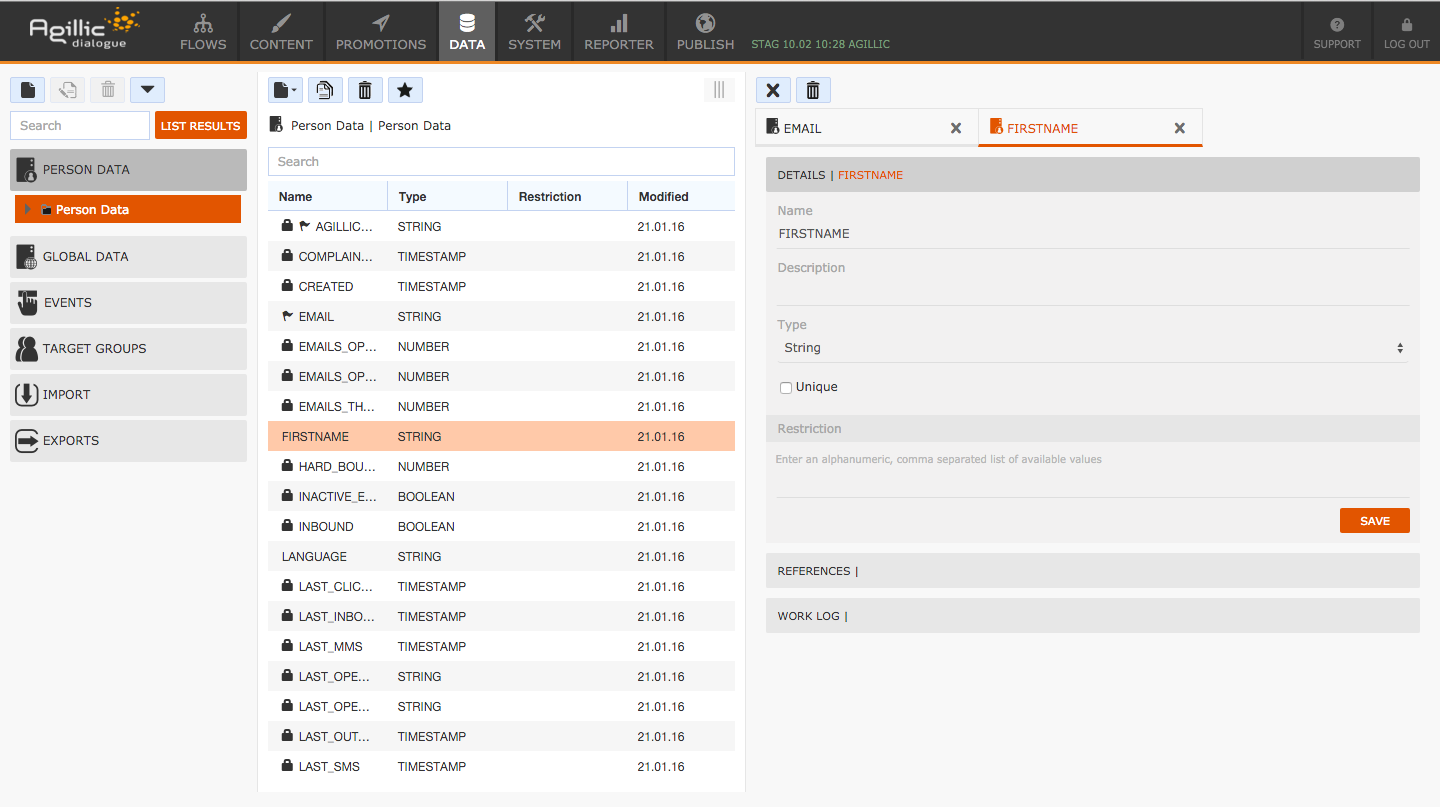 Changes and improvements
Improved design and layout has been implemented adding a more efficient and user friendly interface. (Also added to the Reporter section).
The layout has been changed to consist of three areas: A Navigation area in the left side. A Table area in the middle and Property area to the right. Each area has a corresponding Toolbar above it with different functions according to the selected item in the area below.
All 3 areas work independently, while in the old version of the Data section, the page was reloaded while navigating between different sections, you can now view e.g. a Person Data table and at the same time edit an Event in the Property area.
New save button logic. The Save button in the toolbar has been removed in favour of dedicated Save buttons in each corresponding section.
Progress bar below the navigation
Search is live filtering the results in the navigation while typing in the search field.
Possible to click LIST RESULTS in the Navigation area to get a list of matching content items in the Table area.
Possible to search and set value-filters on columns in all tables (hover the column header to reveal the controls).
Dialogue now remembers which table and property tabs that have been opened by the Dialogue User, which sections of the property editor that are expanded and which details view that was used. Making them available the next time you navigate to the DATA section or log on from another device.
Shortcuts to rename and delete content items in the Navigation area when hovering a content item.
Possible to edit several Users and all of their available data values at the same time (double-click the desired Users to enable edit mode for each of them, change the values and press save to save all of them at once).
Dropdown in the Property area to easily switch between different Details Views of the user table.
Responsive design which will allow the DATA section to be used on tablets and mobile devices.
Possible to move several Table area rows (E.g. Person Data items) into different Folders at the same time (use combination shift/ctrl/cmd/click to choose several of them and drag the active selection from one Folder to another).
Fixed modified by/created by dates and by a user in the Table area.
Removed functionality and what to be aware of
The subsection called "Search" has been removed for now.
Settings for Import Email Notification, Index has been removed as it was duplicating what was in the System - Settings.
A new way to create Parameterized Global Data.
The "Toolbox" can no longer be accessed in the lower right corner in the Target Group subsection. Investigate, Clear Data and User Info are now accessed via the Property Area and User Table Toolbars.
Slow-double-click to edit items has been replaced with today's standards of normal browser behaviour by single clicking to select or fast double clicking to edit.
It is not possible to edit names, restrictions or global data value in the Table area in the middle. This has to be done in the Property area instead.
Condition Editor has changed in how you operate it. No condition types have been removed or changed.
Other minor changes
Resizing the layout is now done using a drag handle in the top right corner of the table section, the newly assigned size will be saved and used for your user across any device you log on from
Enhanced and better description of warnings and notifications
New flag icon in the Table area representing Unique Person Data
New lock icon in the Table area representing Fixed Data
New validation when editing properties. A popup validation will list the fields that are required or have invalid values when you try to save
Details view and clear data interfaces now let you click data instead of dragging data items from one list to the other
Robustness, Scalability and Performance
The technology stack of Dialogue has been overhauled and optimised further. Improving robustness and overall performance.
New Features
Language Support for multiple language versions of the same content item. Making it possible to create a language version of Emails, Pages, Print, SMS, Library Items and Promotions. Start by defining languages in the System in order to use these for language versioning of content items.
Password Security setting. Used to enable reset of a password and defining a password restriction policy.
New improved Audit Log File for better traceability of data changes.
A blank From field in the Email Editor will now give a warning when saving the Email.
UI improvements of the Reporter.
Link URL Parameter. Global System setting to append one or more person data as a query parameter to outbound links in emails.
Trigger side effects when a Page is visited by an anonymous user.
More
Of course, that is not all we have done in this release. We are working really hard on legacy features and functions, and either improving their performance or removing them from Dialogue if they're no longer valid.