Agillic provides many online resources including Help Centre Articles and Video Tutorials to help you make the most out of your Agillic solution. If you're unable to locate the information you need, don't hesitate to reach out to our Product Specialists by submitting a Support Request. We're here to assist you every step of the way.
Agillic Support
Support is offered primarily via support tickets and may be supplemented with phone calls to users who have completed Agillic's training course. Agillic's training course will give you a basic understanding of Agillic, including information about the platform, data models, and all the basics a beginner configurator needs to know to navigate Agillic.
If you don't know how to enroll on our training course, please, reach out to your designated Customer Success Manager, and they will sort it out for you.
What Agillic Support Can Help You With
Our Product Specialists can assist with the following topics:
Questions about Agillic functionalities.
Questions about why the system acts the way it does.
Set up guidance and best practices.
Incident handling, e.g., blocking transactional communications (email, SMS, etc, sending incorrect communication to recipients).
Supporting your own investigation on recent or past issues, e.g., a campaign recently sent out an unintended communication, and you want to understand why.
What Agillic Support Cannot Assist You With
As much as we would love to assist with everything, Agillic is not responsible for and does not provide support for:
Custom templates, configuration, and code implemented in the Platform.
Investigation or resolution of incidents caused by templates, code or other assets implemented by the Client.
Investigation or resolution of incidents and unexpected behaviour caused by the Client's configuration of the Platform, e.g. campaign flows.
In particular cases, Agillic may, subject to an additional fee, decide to provide assistance to resolve such issues.
Tips for Requesting Help from Agillic Support
Agillic Support is dedicated to providing exceptional support, and we greatly appreciate it when support requests come equipped with all the necessary information. To ensure a smooth and swift resolution, please consider the following when reaching out to our Product Specialists:
Name of the Item/Feature: Inform us about the specific item or feature you're encountering issues with. Specify the exact item, such as the Flow name, email names, or email folder structure, and describe how it's failing.
Detailed Issue Description: Provide a comprehensive description of the issue you're facing. If a particular function isn't performing as expected, please detail the problem and outline your expectations for its correct behaviour.
Screenshots: Include a screenshot illustrating the problem. In most cases, capturing the entire screen will be highly beneficial, as it allows our Product Specialists to trace your actions more effectively.
Investigation Steps: If you've already conducted some preliminary investigation or troubleshooting, share your findings. This information will help us to start our troubleshooting process one step ahead.
How to Submit a Ticket Request
You can start your request from your Agillic solution.
Login to your Agillic solution.
Hover your mouse over the question mark icon in the top right corner.
Select Support.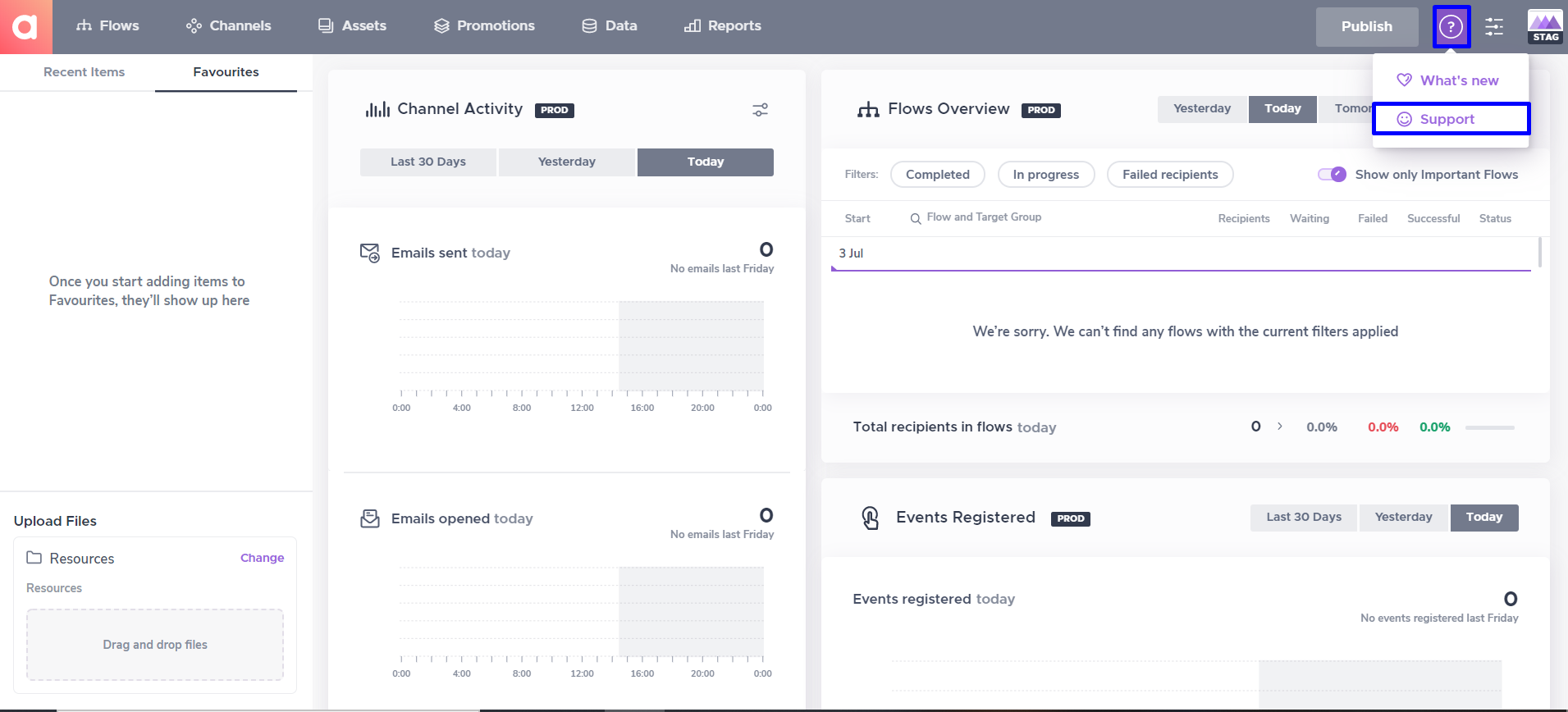 Getting to the Support ticket system through your Agillic solution
Once you've reached the Support homepage, ensure that you are Signed in and, select the Submit a request button in the top bar.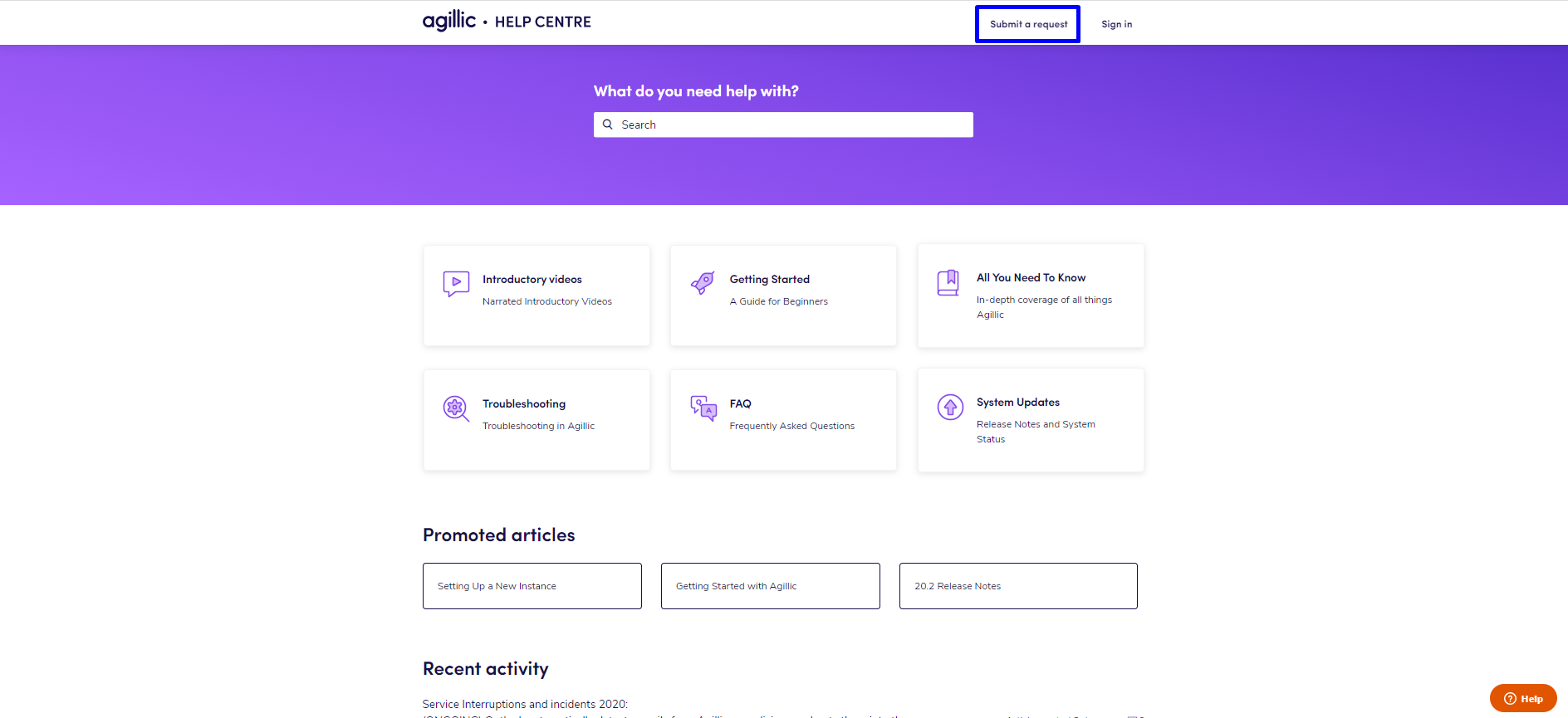 Submitting a request for Agillic support
Fill in the appropriate information in all available fields (You can use the help texts underneath each field to help you if in doubt).
Attach one or more screenshots if applicable.
Click Submit when you've finished filling in the details.
Now, you've created a ticket. Agillic Support will get back to you as quickly as possible.
Support Business Hours
Support is provided during business hours defined as:
Monday to Friday 9:00 a.m. to 5:00 p.m. (CET/CEST) excluding Danish public holidays.
Support by the phone
During business hours, you can talk to a Product Specialist by calling the Agillic Support phone number:
+45 78 79 37 38.
Outside of business hours, and only in the event of an urgent incident, we have a hotline available. An urgent incident can be a verifiable issue caused by a system malfunction that is either:
Blocking transactional communications (email, SMS, etc.).
Corrupting recipient data in the Production environment.
Sending incorrect communication to recipients.
Hotline number: +45 27 82 98 29
Note: Remember to create a support ticket prior to calling otherwise Support cannot log into your solution and investigate the problem.

Suggested Next Steps