If you have any questions on how to use Agillic or if something unexpected has happened to your instance, you can get in contact with Agillic Support. We recommend that you check the Knowledge Base first before contacting Agillic Support.
In this article, you can find information about:

Requirements to Get Support
In order to get Support from one of our product specialists, you must first go through our E-learning program. Our E-learning program gives you a basic understanding of Agillic and includes information about the platform, the data models in Agillic, and the basics a beginner configurator needs to know to get to grips with the platform.
Once you've finished our E-learning program, you will be created as a user in our ticket system and you will be able to raise requests and call Agillic Support. To get started with the E-learning program, simply reach out to your designated success manager to sign you up!

What Does Agillic Support Assist With?
The product specialists in Agillic Support can assist with the following:
Questions about the functionality of Agillic.
Questions about why the system acts the way it does.
Guidance and best practice about setups.
Incident handling such as a campaign going live unexpectedly which needs to be stopped.
Support your own investigation of recent past issues such as if a campaign recently sent out an unintended communication and you want to understand why.

What Doesn't Agillic Support Assist With?
As much as we would love to assist with everything, it's not possible for our product specialists to help you out with the following:
Creating campaigns or other types of setup.
Verifying if your configuration is correct.
Supporting custom code and troubleshooting issues arising due to custom code.
Template development and template troubleshooting.
If you still need help with an issue not supported by Agillic Support, we can organise a paid professional services task. Contact your Agillic customer success manager with a detailed explanation of your task so we can give you an estimate. If you're unsure who your Agillic customer success manager is, you can always reach out to Agillic Support.

What to Know Before Submitting a Request
In order to help us help you faster, we recommend preparing the following information before creating your request:
Names of any items affected such as Flow names, email folder structure etc.
Full screenshots of the affected configuration.
Steps of what you have already done to investigate the issue.
Steps to reproduce the issue.

How to Submit a Request
Agillic Support expects you to search for the available documentation on the Knowledge Base before creating a ticket. Use the search feature on the Knowledge Base homepage to navigate quickly and easily.
If your request includes multiple issues which aren't directly linked to each other, please create separate requests for each issue.
Login to your Agillic solution.
Hover your mouse over the question mark icon in the top right corner.
Select 'Support'.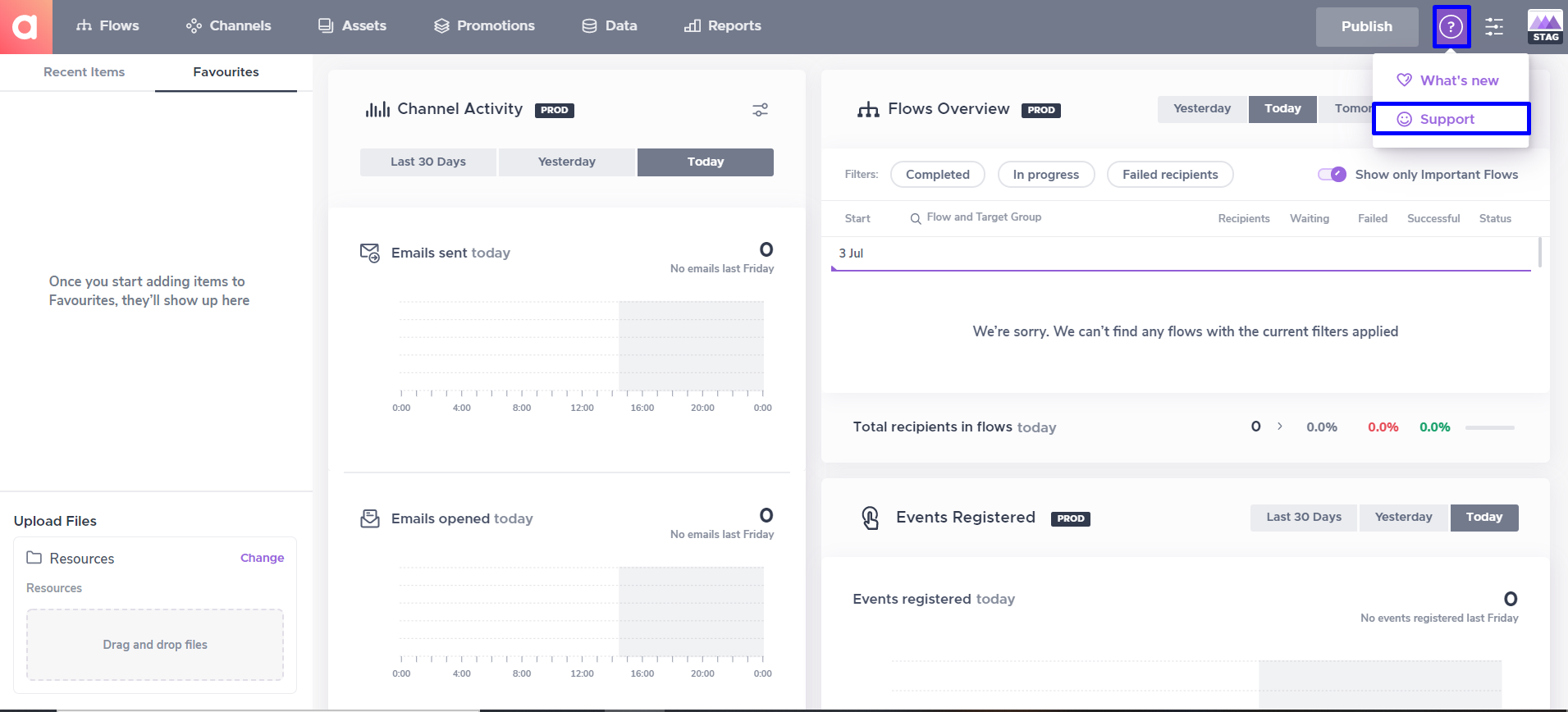 Getting to the Support ticket system through your Agillic solution
Once you've reached the Support homepage, select the 'Submit a request' button in the top bar.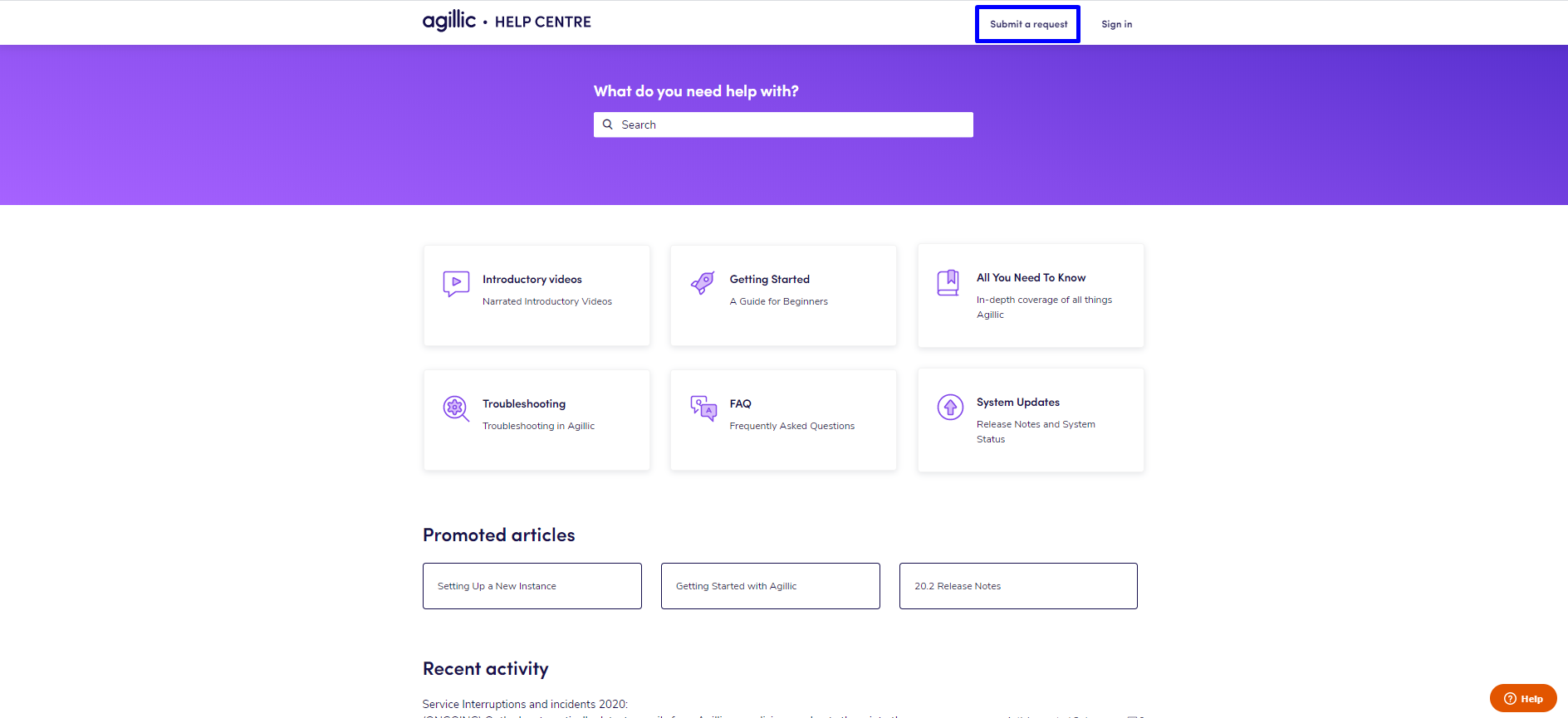 Submitting a request for Agillic support
If you'd like, you can add an email address to the 'CC' field to receive updates on the ticket.
Select a ticket type from the 'Type' drop-down menu.
| | |
| --- | --- |
| Type Name | Description |
| Question | Select this ticket type if you have one or more related question about how to use the Agillic platform. |
| Incident | Select this ticket type if you have an ongoing incident e.g. a Flow you want to pause or a Flow that needs to execute but does not want to execute. If you pick this ticket type, you will need to let us know who is affected by the incident and whether you have a workaround or not. |
| Problem | Select this ticket type if you have a past problem such as a recipient receiving the wrong email. If you pick this ticket type, you will need to let us know who was affected. |
| Task | Select this ticket type if you want to request a paid task such as the creation of a custom solution. |
Table 1: The different ticket types
Fill in the appropriate information in all available fields. You can use the help texts underneath each field to help you if in doubt.
Attach one or more screenshots if applicable. Don't crop the screenshot as we can often derive valuable information from having the entire screenshot rather than just part of your screen.
Click 'Submit' when you've finished filling in the details.
Now, you've created a ticket. Agillic Support will get back to you as quickly as possible. Once a product specialist has replied to your ticket, you will receive an email with their reply.
Agillic Support can propose a workaround as a way to resolve a ticket such as if the issue is due to a bug that needs time to be fixed.

When Calling Agillic Support
To call Agillic Support, simply call the following phone number: +45 78793738. The entire team of product specialists speak both Danish and English.
While on the phone, Agillic Support can help you with general questions about the Agillic system. If your question is related to a specific set up in your instance, then you will need to create a ticket to give us the necessary permission to log in to your instance if needed. We have this precaution to ensure that we follow GDPR guidelines and protect your data.
If your issue is of a complex nature, such as a failed API call, failed import files, or a bigger campaign not acting as intended, we recommend creating a request explaining your challenge in any case to ensure a track record and clear description of issues as well as descriptions of relevant elements involved in the challenge.

Suggested Next Steps