With A/B testing, you can test the performance of two or more variants to see which is more successful. This can help you improve your engagement and satisfaction rates.
There are a number of different methods to A/B test in Agillic. The method you go for depends on the nature of your test.
Subject Line Test
The first of your options works specifically for subject line testing. Our subject line test feature allows you to perform a fully automated subject line test. The winner - the best performing variant based on open rates, click rates, or both - is automatically selected to use for the rest of your recipients.
Subject line testing is a built-in feature. You can configure it either in the Email Editor or in an Email Step of a Flow. To enable and configure the subject line variants, check the 'Subject Line Test' checkbox in the Properties panel of the Email Editor.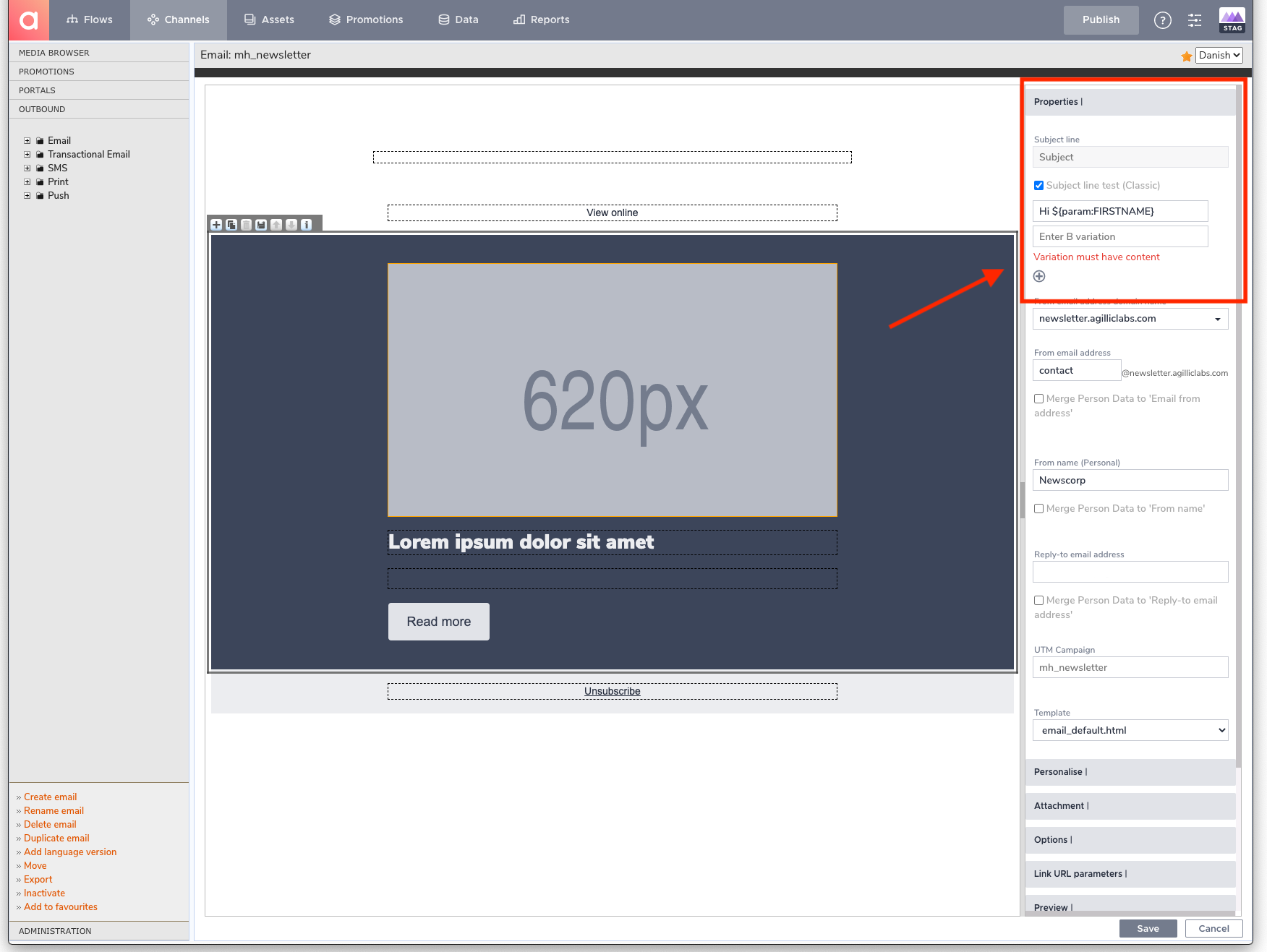 Enabling and configuring subject line test variants
Random Split Flow
If you'd like to test email content, you should use a Random Split Flow. They're performed by creating two or more individual emails and then using a Split Step to randomly select recipients for each variant. You will need to use the Fixed Person Data field named 'RANDOM'.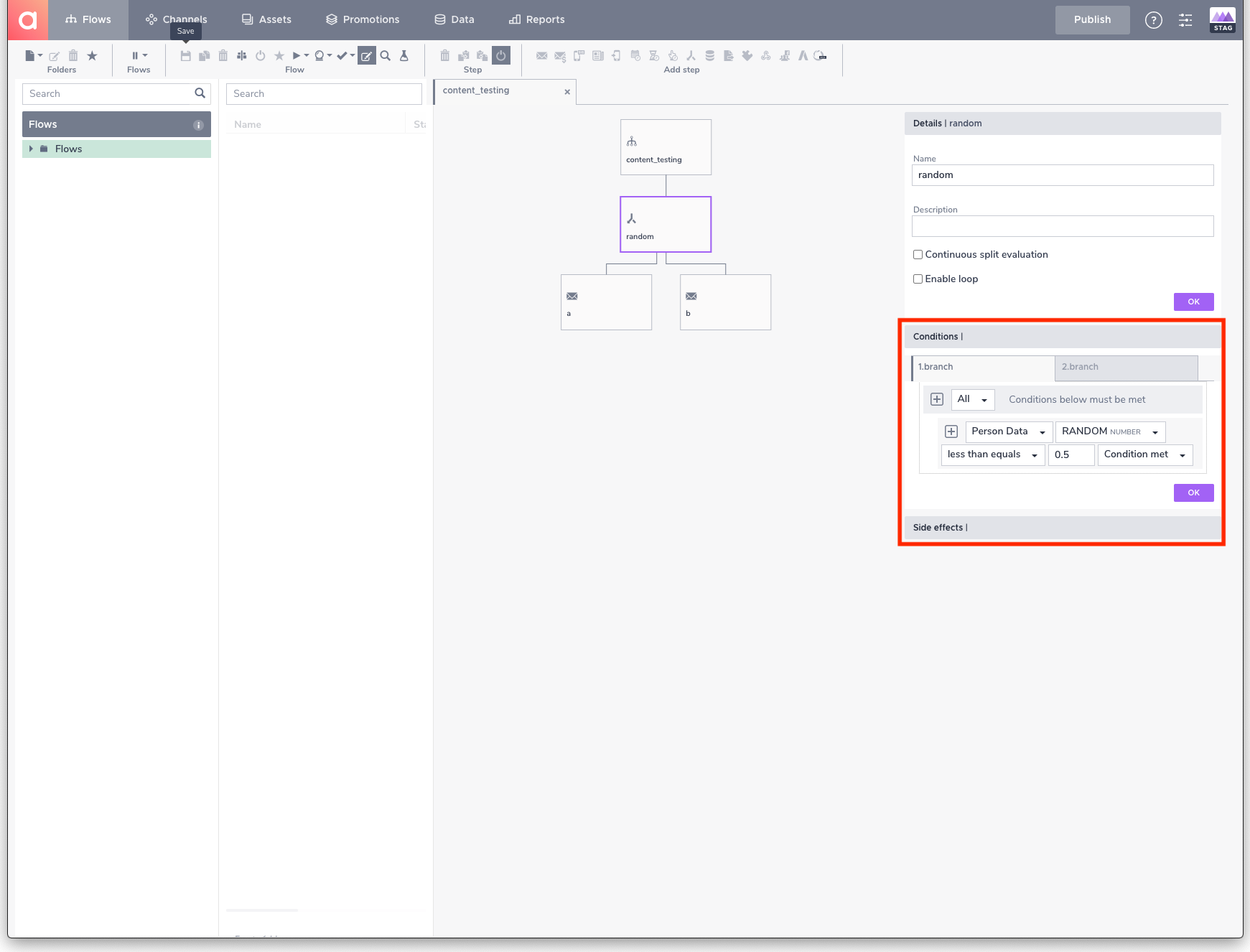 Configuring a Random Split Flow
Once you've executed your Flow and you've left sufficient time for your recipients to interact with the email, you'll need to create an email report in the Reports module.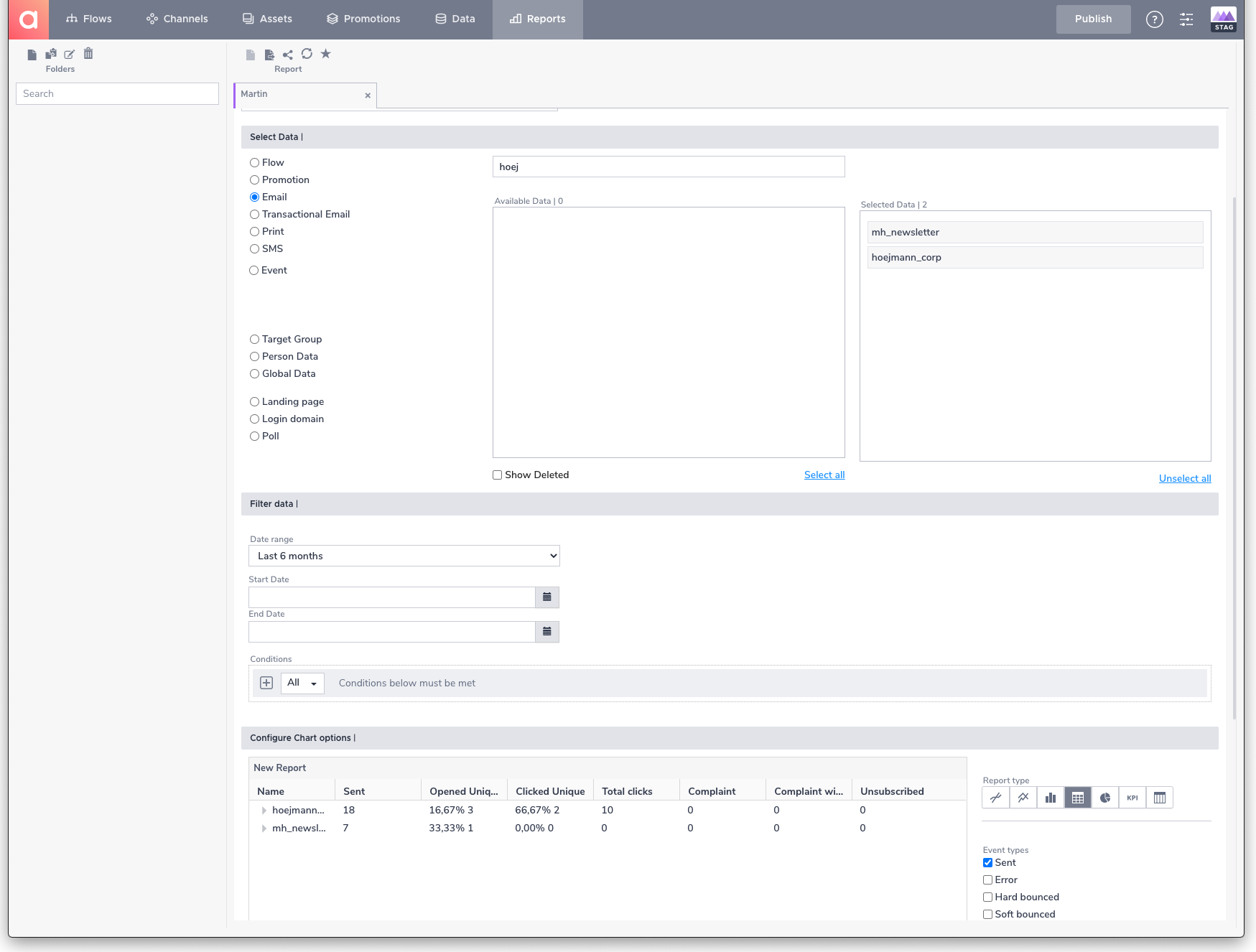 An email report on the two email variants
Random Split Promotion
With a Random Split Promotion, you can test content variants on randomly selected groups of recipients by using Promotions. If you're unsure about using Promotions, you may want to read up on Promotions first.
Once you've created your content variants, it's time to configure the 'randomly selected' part of the Promotion. Again, you will need to use the Fixed Person Data field named 'RANDOM'.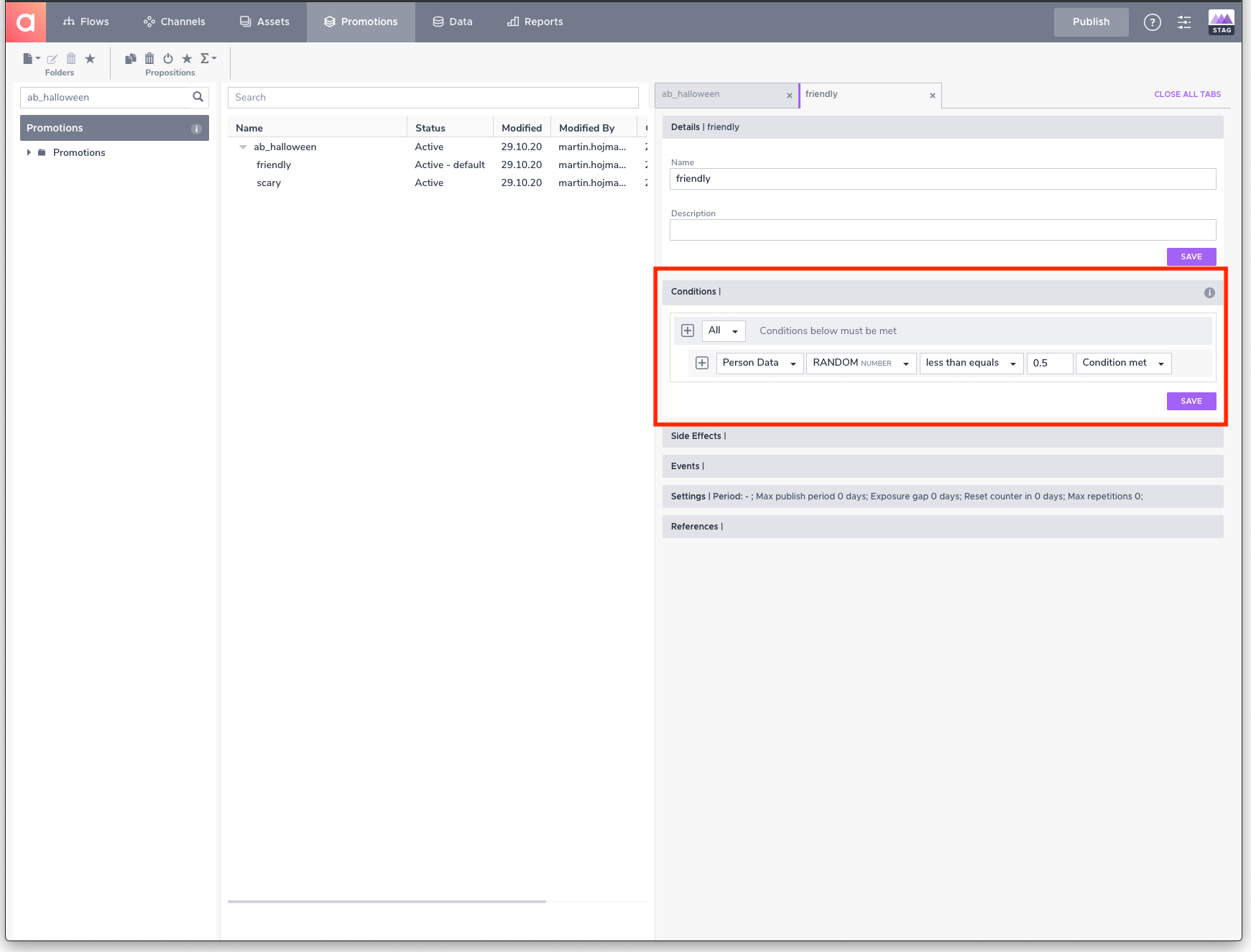 Configuring the Promotion to show the 'friendly' variant to all recipients with a 'RANDOM' value of less than or equal to '0.5'
Once you've given your A/B test sufficient time, simply create a Promotion report to investigate which variant engaged your recipients the most.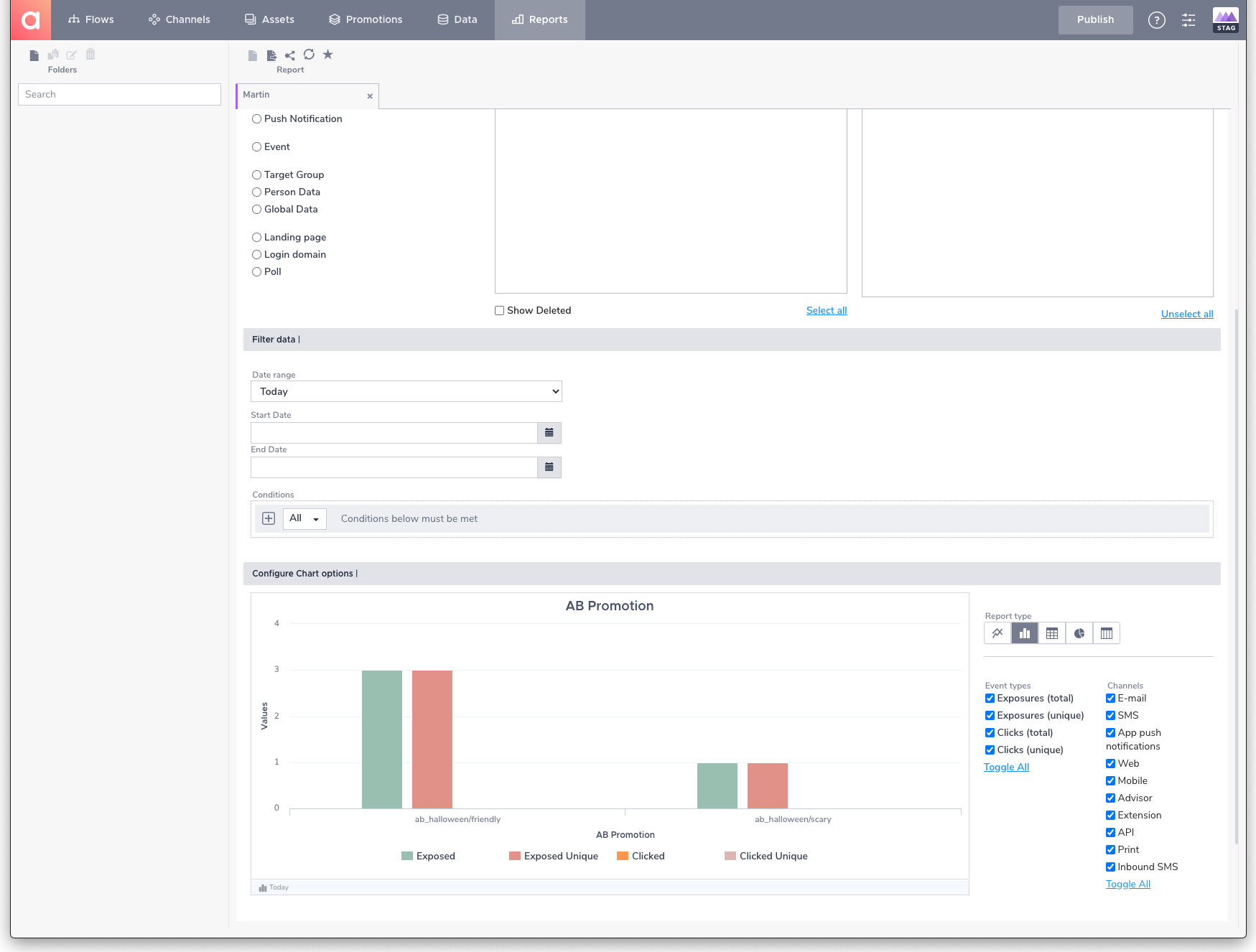 Creating a Promotion report in order to evaluate the A/B test
Suggested Reading