To access Agillic, you must log in with your username and password. If you're prevented from logging in, there are several reasons why this might be happening.
The most common reasons why a user can't log in are:
You're not using Google Chrome
When you want to work in Agillic, you need to use Google Chrome as this browser is the only one fully compatible with Agillic. Remember that if you want to configure in Agillic, you'll need to work in Google Chrome at all times.
You're not complying with the password policy in the system settings
To keep Agillic secure, you need to set a password that follows the password policy set in your Settings. For example, this might mean including special characters. Besides that, you also need to follow the minimum length specified in your Settings. The password can be reset in the Settings by another user.
It's important to note that password resets are instance-specific. If you need a password reset for both Production and Staging, the password must be reset on both instances.
You're not set up in Agillic as a user
You might experience that you are able to log in on one environment and not the other. In order to get access, you'll need to contact one of the users who are already set up as a user in Agillic so they can give you access. You can read more about creating users here.
You're using your email to log in instead of your username
In Agillic, you can only log in with your username. That means that if you're trying to log in with your email, you will see an error saying that either your username or password is incorrect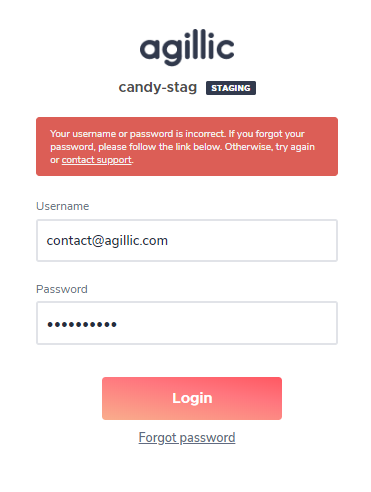 The email address contact@agillic.com trying to log into the Candy Staging environment instead of using the correct username
You didn't follow the link in the email you got when you reset the password
If you choose to reset your password by clicking FORGOT PASSWORD, it will redirect you to a page where you need to fill in your username. When you've done that, you'll receive an email where you need to follow a link. It will redirect you to another page where you can fill in a new password that's compatible with your password policy.
You're following the link in the email and it redirects you to another browser than Chrome
When you click on the link in the email, be aware of which browser you've set as default when it redirects you. In case the link doesn't open in Chrome when you click on it, you'll need to copy the link directly from the mail and then insert the link in the Chrome browser.
Suggested Next Steps