You can create Reports to get a performance overview of email send-outs, Target Group sizes, Promotion performances, and more.
To enable quick access to Reports you've already configured, you can create a Dashboard. A Dashboard is a collection of Reports you want to go back to which update automatically.
Dashboards and Reports aren't shared across the Staging and Production environments. To make a Report on Production data, create the Report on the Production environment.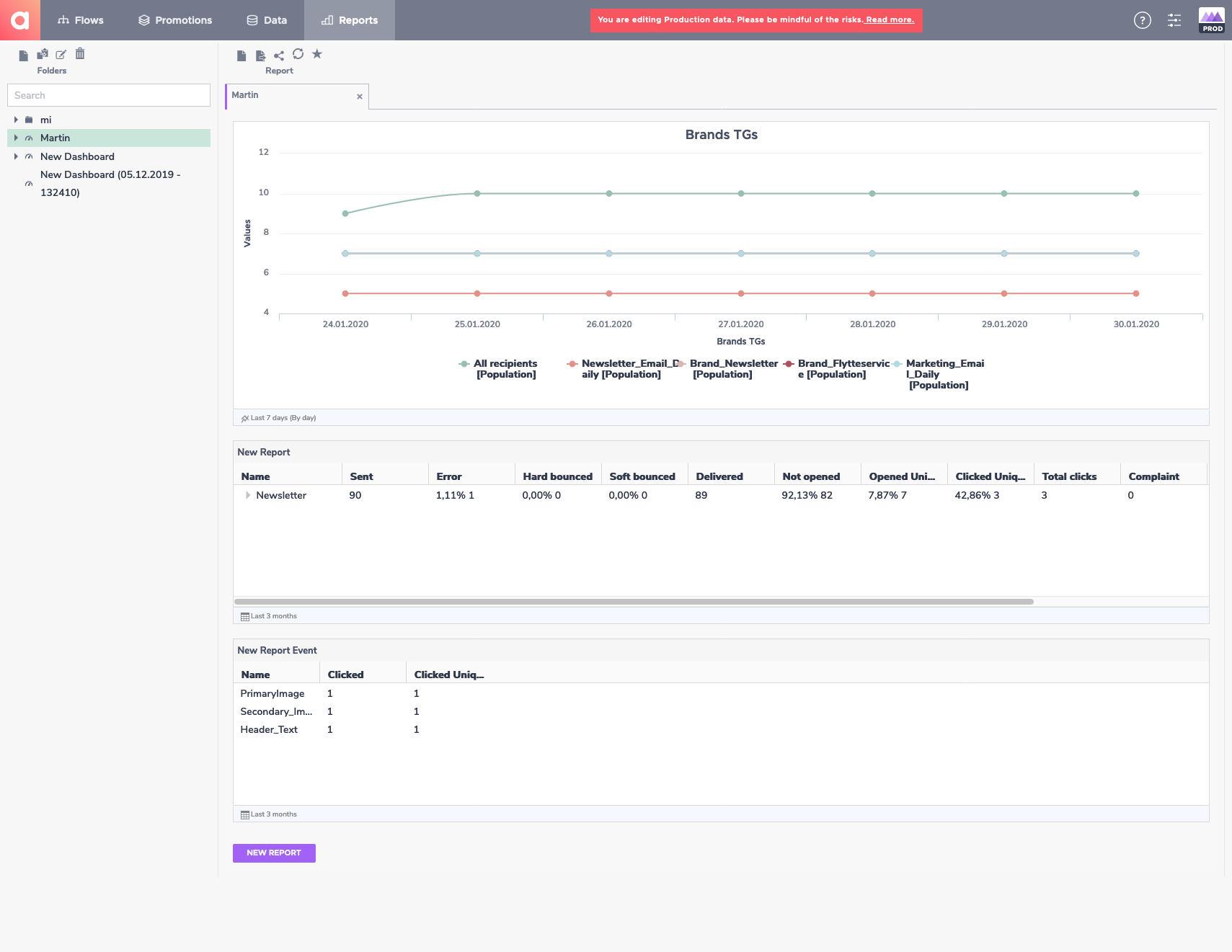 A Dashboard containing a collection of Target Group Reports, an email send-out Report, and an Event Report
Configuring a Report
To create a Report, go into the Reports module and then select 'Create a New Report'. Now, you can specify which sort of Activity Data you want to include, be it about emails, SMS, or Events. You can then choose to filter the report data based on time ranges.

Once you've made your selection, you can choose what type of graph you'd like the data displayed in, as well as which Event types the graph should show.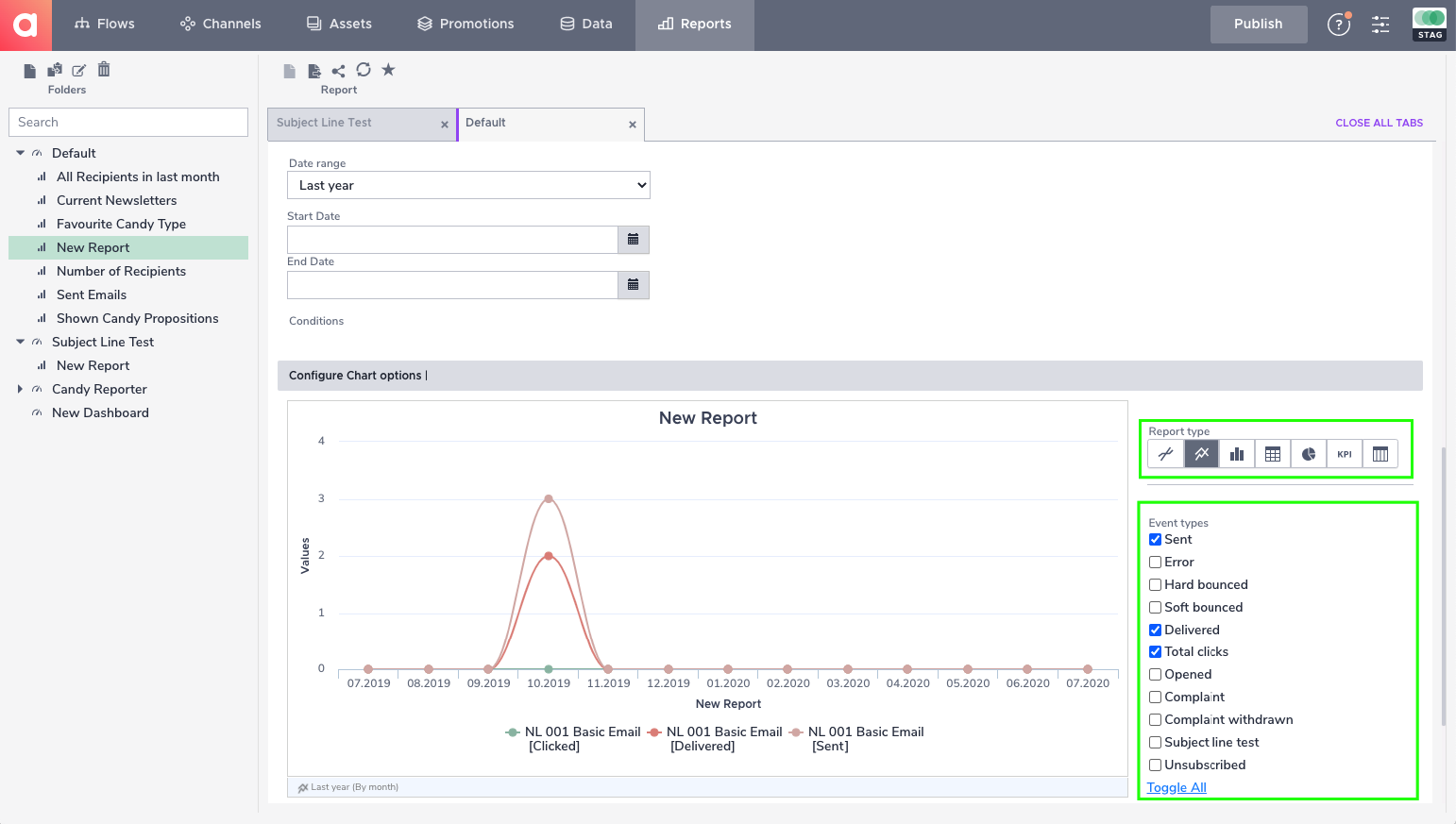 If you create a Target Group Report based on a newly created Target Group, it won't retrospectively display data. Instead, it will display the data from when the Target Group was created.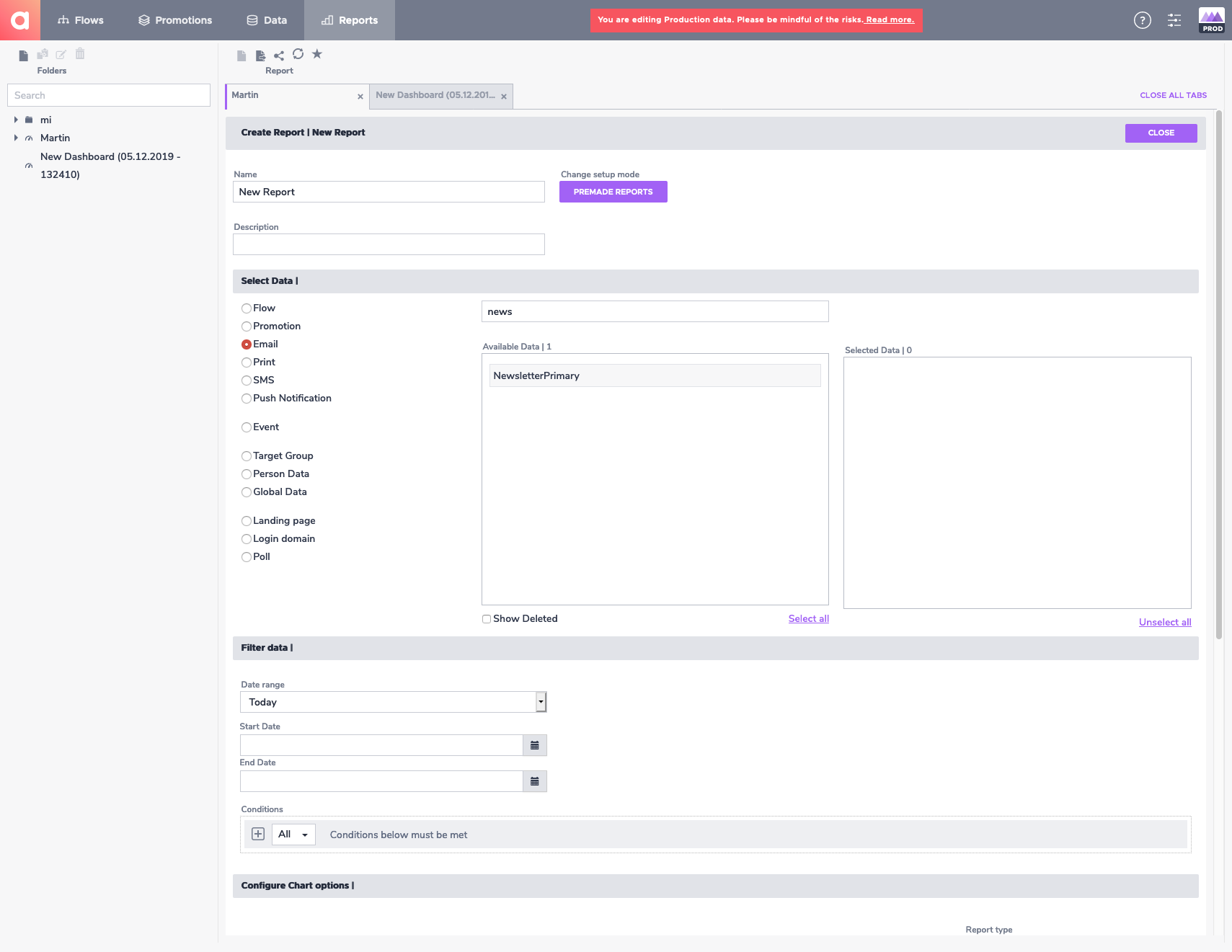 Setting up a new email Report. Read more about Calculating Email Reports.
Premade Email Reports
In order to access Event and Promotion data for a specific email or lists of emails, you have the option to create a premade Report. You can create the premade email Report by selecting the button next to the 'Name' input field as you can see in the image below.
A premade email Report generates a set of Reports that will include Promotion exposure data as well as Event trigger data, specifically related to the selected emails.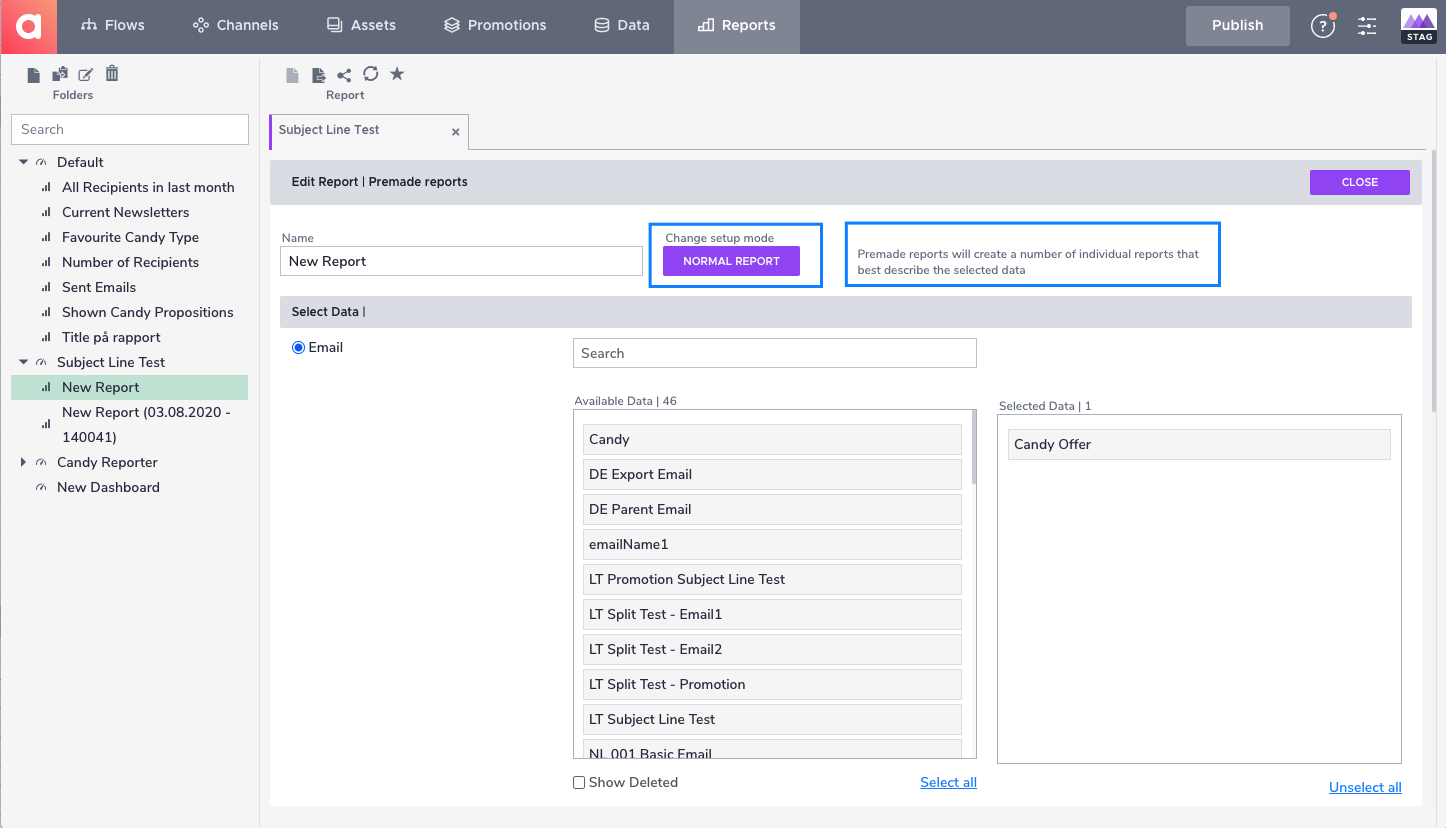 Recipients Export
If you want to explore the data comprehensively, you can export it. It's not necessary to do a full activity Export. Instead, you might choose to do a recipients Export.
This means that you can choose to export the data on all recipients from a specific send out. Then, you can investigate specific insights, such as when a recipient opened or clicked on an email or why errors occurred.
To do this, create a Report but when you get to Configure Chart options, change the Report type to 'Recipients Export'. The video below demonstrates how to do this.
Sharing a Dashboard Externally
You can share your Dashboards externally without having to create the Dashboard recipient as a configurator in Agillic. Simply click the 'Share' icon from the dashboard toolbar, enter the email address of the receiver, and define a time limit access period.
It's not possible to share recipient Exports when sharing Dashboards, because of security, and GDPR reasons. If you need to make a recipient export, you need to log in to your Agillic solution and manually make a Recipient Export.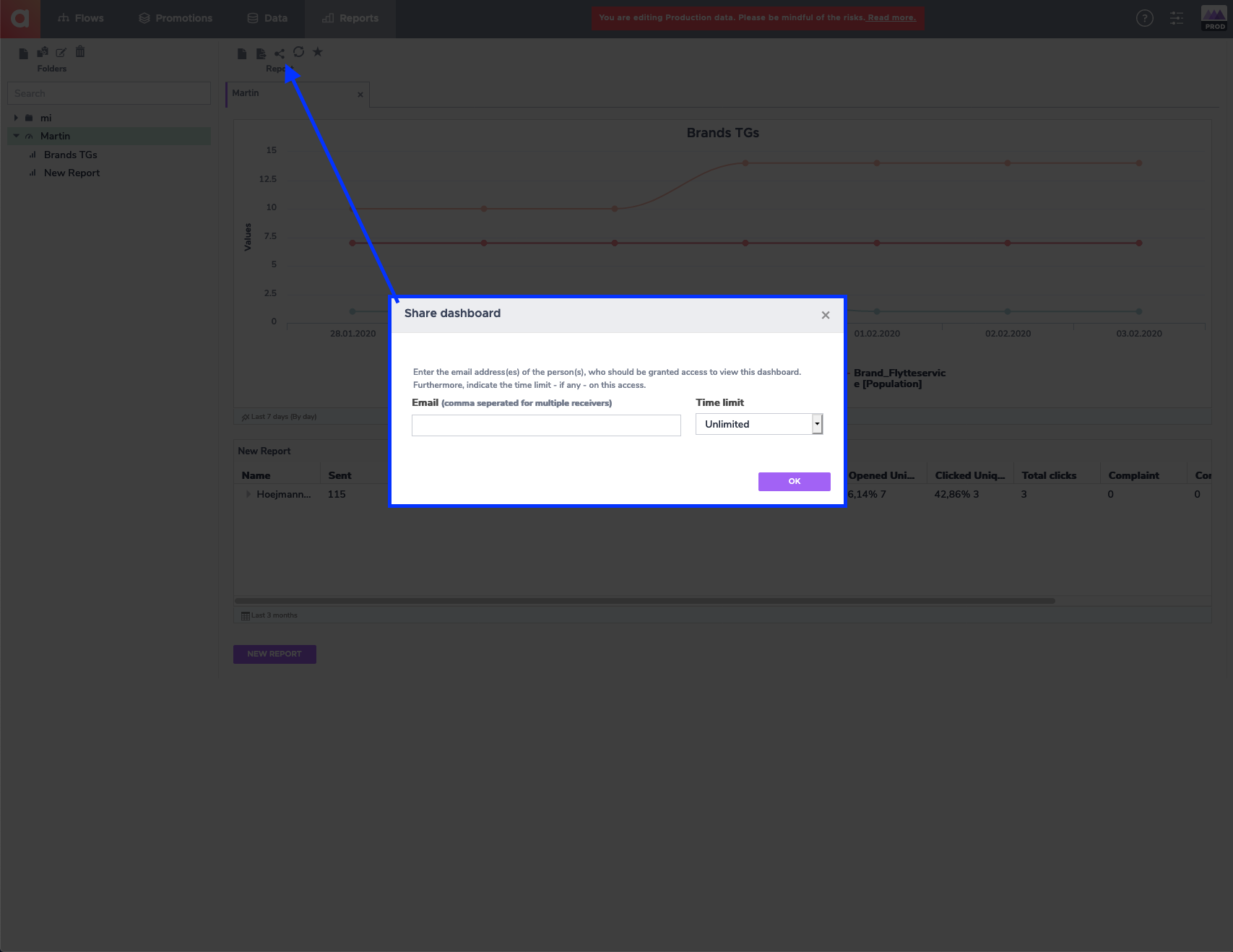 Sharing a Dashboard externally