The Export Settings control the format for export files created by an Export Step. You can also set folder restrictions through the Export Settings, controlling which users can access which folders and enable the inclusion of Execution ID in Activity Exports.
You can alter the Export Settings in the Settings module under the 'System Settings' section. Under this section, you will find:
Export Formats
Export Formats ensure that only data in a valid format is exported from Agillic. Make sure the settings follow the format of the external database receiving the file.
All the settings have a default value. However, you can alter the way they're set up to better match your needs. The settings include:
While all settings have a default value, they can set up to better match your needs. The settings include:
File delimiter
File extension
Decimal separator
Date format
Timestamp format
Export Access
You can control who has access to the exported files folders. This ensures that only appropriate profiles can open folders and download the files they contain.
Under the 'Access' section, click the plus icon to add a profile you wish to restrict access for. In the 'Profile' field, specify which user you want to restrict. The users you can choose between are the ones registered in the Settings module under the 'Profile Management' section with access to exports. You can find more information on how to create a user in Agillic here.
Activity Exports
By including Execution ID in activity exports, it's possible to differentiate between multiple send-outs as the execution ID will be different. You can either enable this feature for all activity exports here or enable including the Execution ID on the individual activity exports in the Data module in the 'Export' section.
Checking this setting globally enables an additional column to be generated for Activity Exports. Flow executions are assigned an 'Execution ID' allowing you to distinguish between different executions of the same Flow.
Please be aware that the format of the activity export including the Execution ID is different from a standard activity export (an additional column). Therefore, we recommend that any internal or 3rd party using the activity export needs to be notified well in advance to adapt to this format.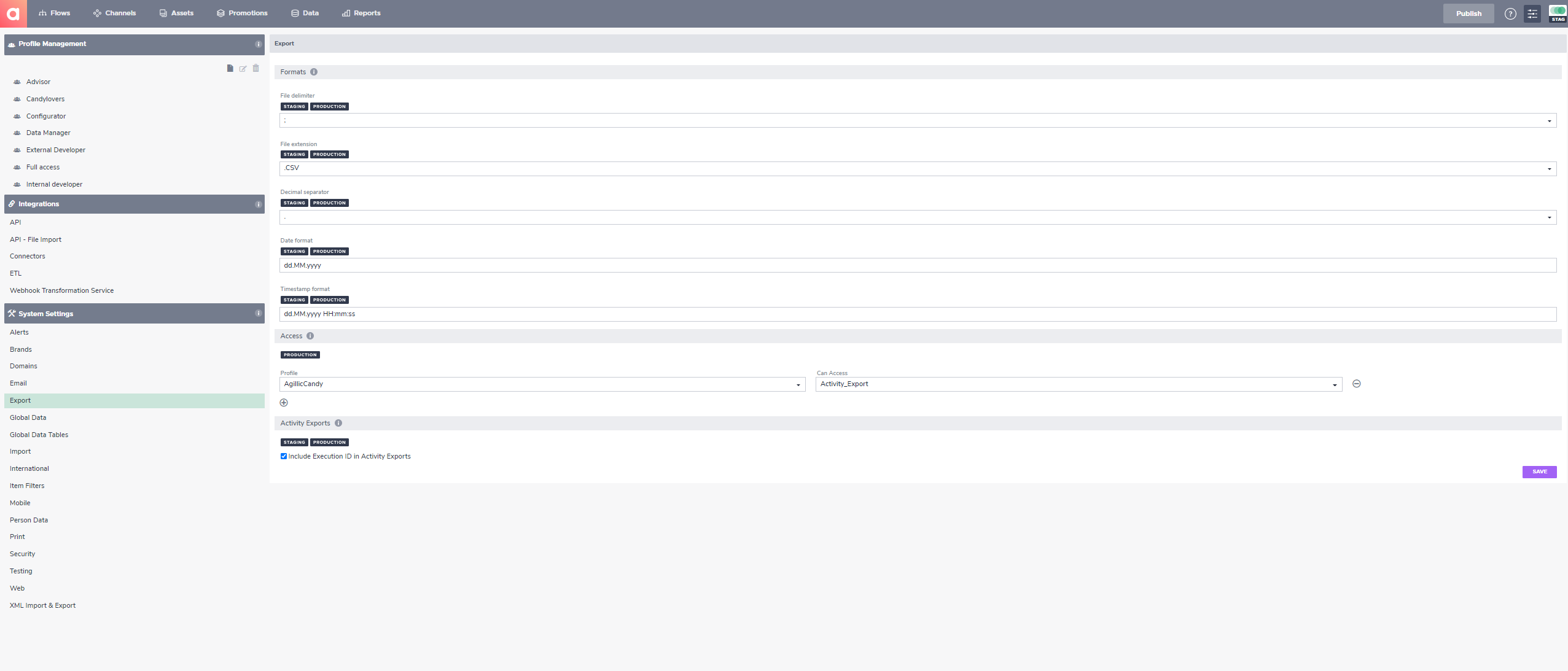 Export settings
Suggested Next Steps