The Testing settings allow you to control how you test in Agillic. You can alter your settings in the Settings module under 'System Settings'.
In the Testing settings, you can find settings for:
Autogenerated Test Users
When you create profiles for testing Flows or Promotions, the default email address set is support@agillic.com. This is registered for both Staging and Production as you can see in the image below. You can change this email address if you wish to.
Test Mode
Email Test Mode
If your project uses EMAIL as the unique ID, Agillic will not be able to create multiple test recipients with the same email address. Instead, use the Email test mode to direct all the test emails sent via auto-generated test profiles to one or more email addresses (comma separated).
Mobile Test Mode
Normally mobile communications will be sent to each recipient. By enabling the Mobile test mode, all mobile communication will be directed to the MSISDN specified in the setting. This ensures no test communication will reach any recipients in the Staging environment.
Disable SFTP/FTP/email Export Profiles
When Export Steps are executed, the export files can be transferred to external servers via SFTP, FTP, or by email. During a test or even the Production phase, it might be relevant to handle export files differently in the Staging environment. Use the settings to fine-tune how Export Profiles are managed.
Delete Exported files from Agillic Server
When using Export Profiles to upload files to a remote server, the file is first saved on the Agillic server before it's uploaded to the remote server. Check this setting to delete the files on the local Agillic server after they've been uploaded to a defined remote server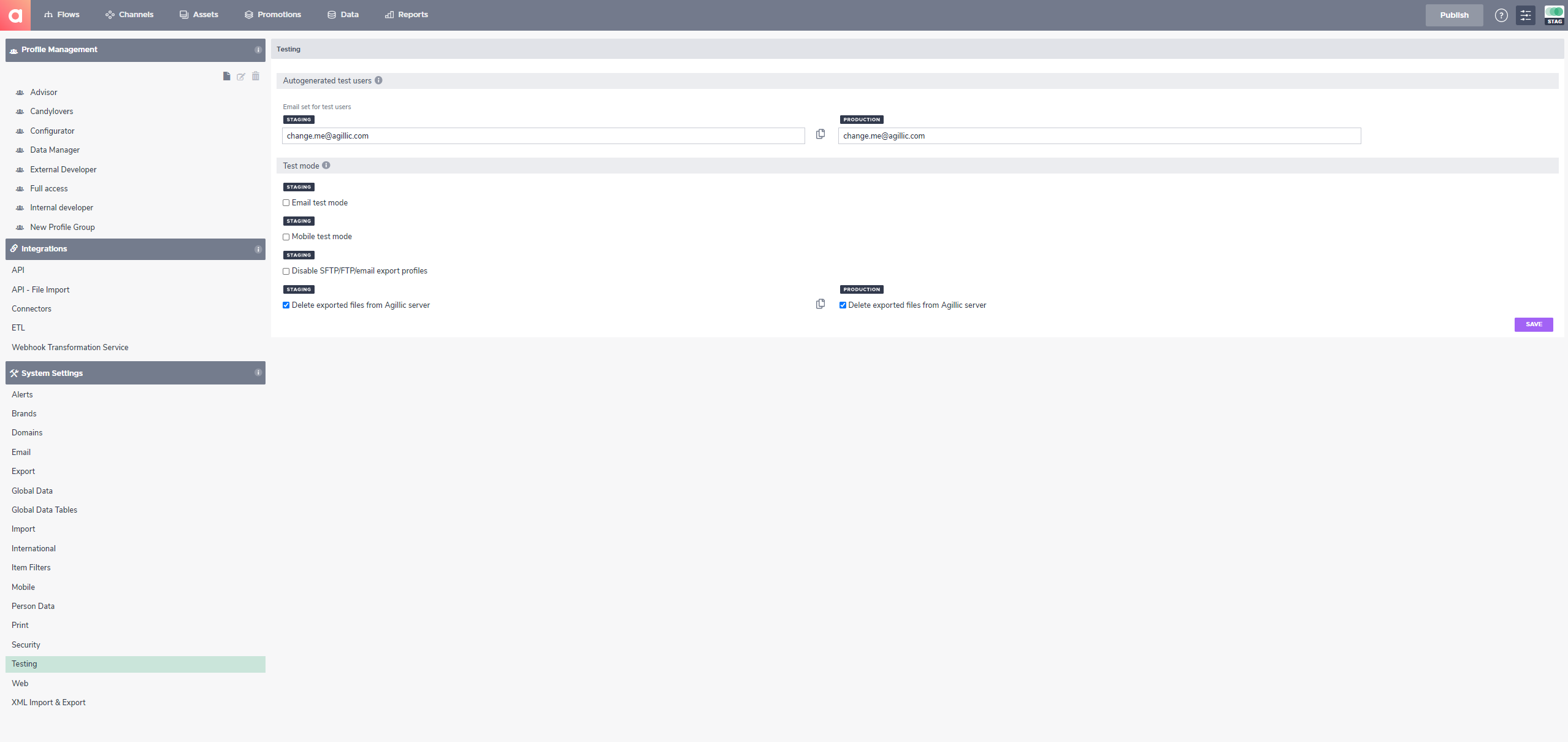 Testing Settings in Agillic