Your Web Settings allow you to control everything to do with your Web Pages in Agillic. You can enable web tracking, meaning you can see who visits your pages, and control which page a recipient should see if they're not allowed to access a Web Page by using a user Menu Item. Also, it's in your Web Settings that you're able to find the secret salt, codes used to identify and verify incoming calls through the Agillic API.
You can find your Web Settings in the Settings Module under the 'System Settings' section.
In this article, we will go through:
Agillic Web Tracking
Enable Agillic Tracking Script
Agillic Web Tracking helps you track and identify visitors on any of your websites and landing pages, both pages built in Agillic and those built elsewhere. Just check the box if you'd like to start tracking.
It's important to know that if you disable the feature, all tracking information already collected will be permanently deleted.
Install Agillic web tracking on your website
Copy and paste the tracking script code snippet to the websites and landing pages you wish to track. We recommend that you put it either in the HTML head or just before the closing tag of the HTML body. When the tracking is enabled and the tracking script is implemented, you'll be able to include recipient website activity when configuring conditions. You can see the total number of pages tracked and the total number of both identified and unidentified visitors below the script code snippets.
Secret Salt
The secret salt code allows you to identify and verify incoming calls through the Agillic API.
Agillic Web Page Login
Redirect URL for access denied (401)
You may want to protect some of your pages with explicit login requirements. If a recipient tries to access these pages without the security level required, you can redirect them to a specific screen, the URL of which you can insert here. If you leave this field blank, they will instead be logged out and sent to a default, anonymous page.
'Remember me' login
Agillic sets cookies for all recipients visiting a webpage created with Agillic. This allows Agillic to recognise recipients. Once this option is enabled, Agillic attempts to automatically login recipients who have the 'Remember me' cookie set when they try to access anonymous parts of the portals.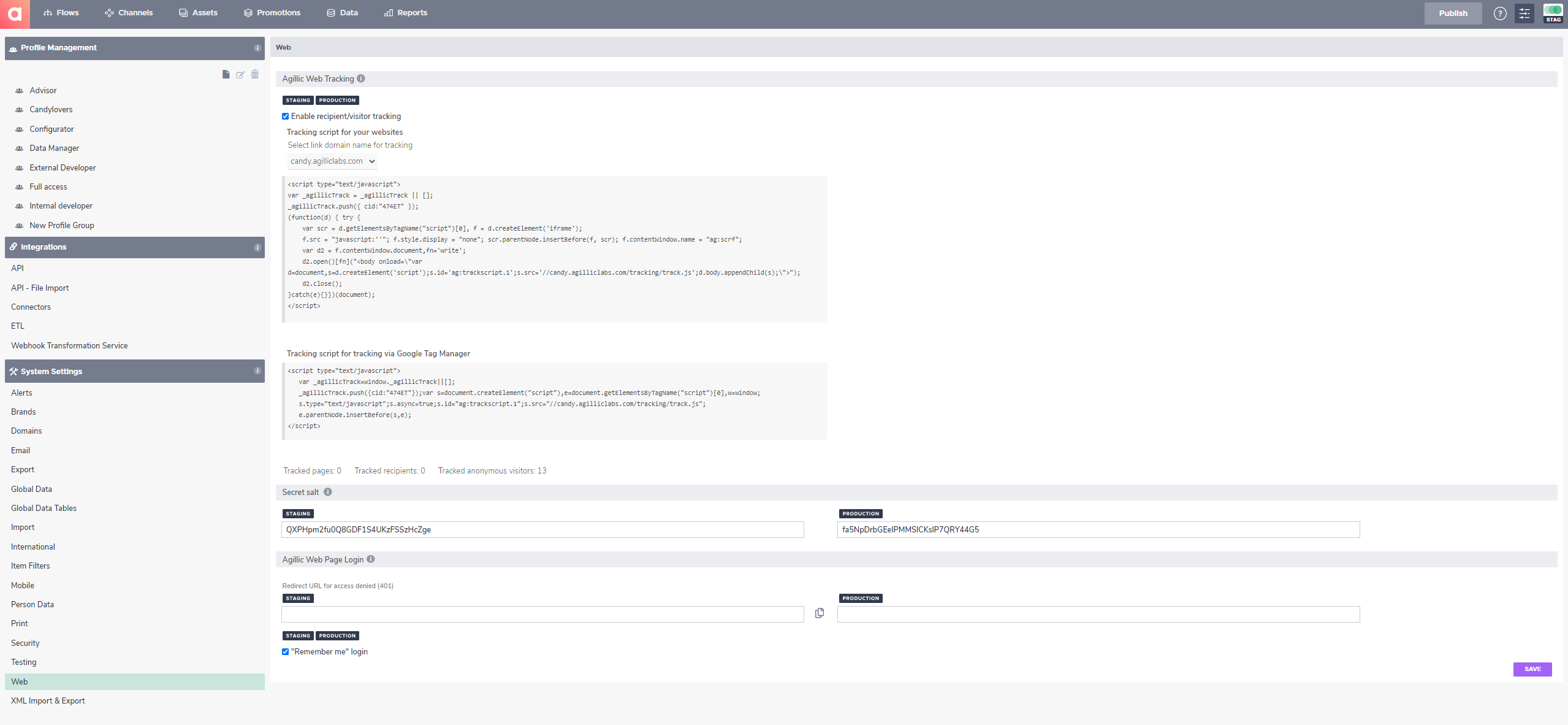 Web Settings Section
Suggested Next Steps