Once you've created a Target Group and added Conditions to it, you might want to know how many recipients meet the Conditions. This can be especially helpful if you're setting up a new Target Group and want to check it contains the expected number of recipients.
How to Calculate the Population of a Target Group
Log into the Staging environment.
Open the Data module.
Open the 'Target Groups' subsection.
Create a new Target Group or navigate to an existing one.
Add Conditions to the Target Group if needed.
Click on the 'Population' icon (Σ) in the top toolbar.
Select 'Get population from Staging' or 'Get population from Production' depending on if you want to know the population for your test recipient or for your live recipients.
After you've completed these steps, a pop-up window will appear. It's here that you can watch your Target Group predictions progress.
The predictions are sample-based, which means that Agillic is able to automatically divide the calculations of larger Target Groups into multiple smaller calculations. This gives you much faster initial predictions as there's no need to wait for all recipients to be counted before you see the numbers in the interface. So, if you're working with large and complex Target Groups, this one will definitely come in handy!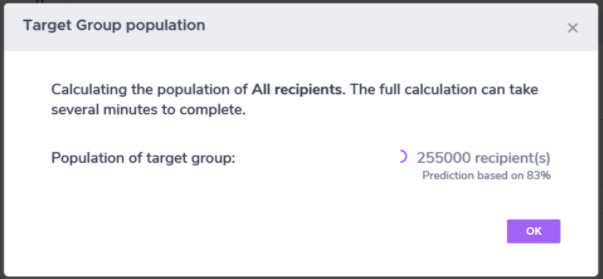 Pop up box for Target Group population
The time it takes to calculate the population depends on how many recipients are present in your Agillic environment, how many Conditions you include in your Target Group, and what type of data the Conditions use.
The Population column updates at midnight every day, as well as every time you execute a manual 'Get Population'.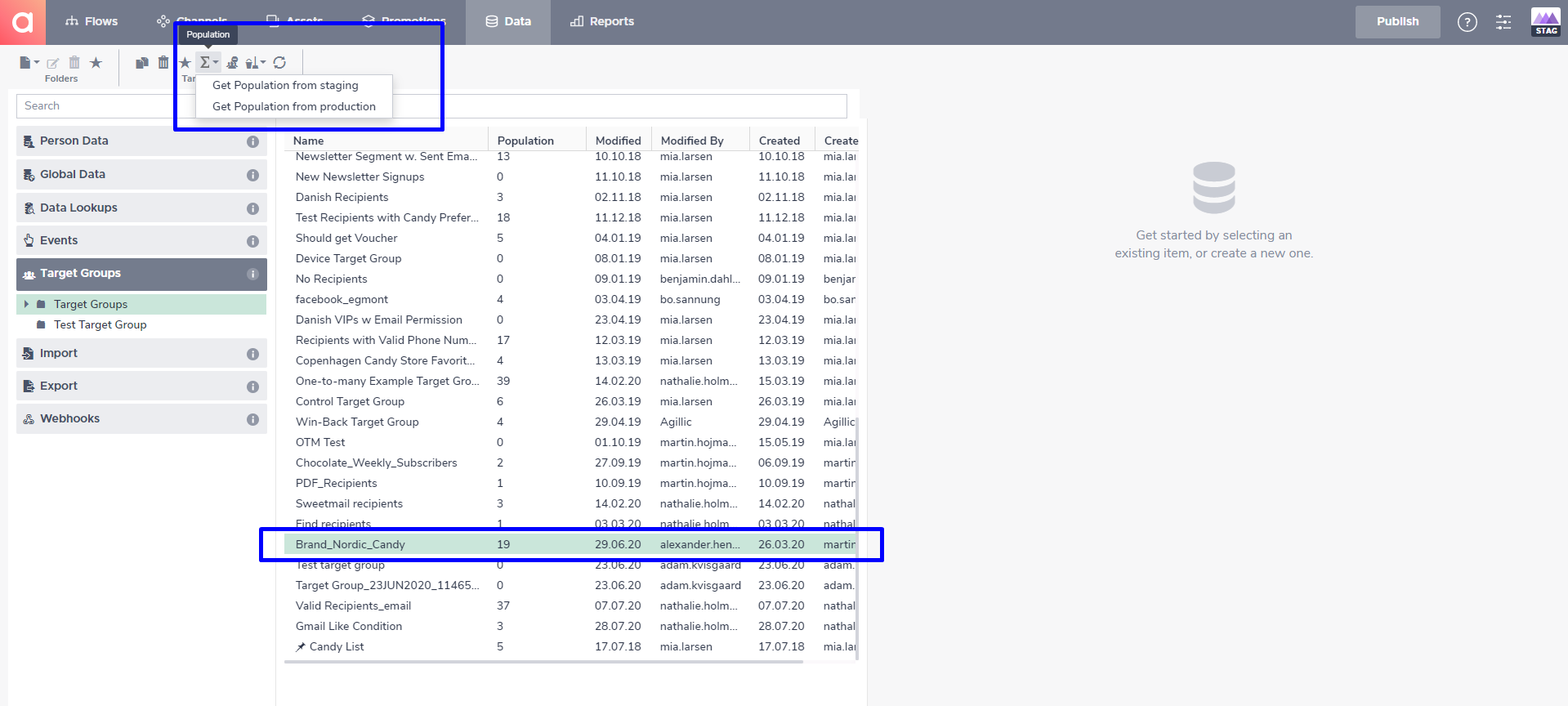 A Target Group named 'Brand_Nordic_Candy' which is ready to calculate the current population either Staging or Production. The last time a population count was made or the daily midnight count took place, the population was 19 as you can see in the 'Population' column.
Suggested Next Steps