A URL parameter allows you to track how recipients interact with various webpages or communications. The URL parameter is added to the end of your links. For example, you could track when recipients land on an external site and understand how they arrived there. It can also be used to hold recipient-specific data, allowing you to recognise the recipient visiting with an ID on an external page.


URL parameters are referred to as any key-value pair that comes after a '?' in a URL. Multiple parameters are separated by an '&' sign. Take a look at this example of a link from Agillic with URL parameters -
https://agillic.com/spotlight-on-support/?_thumbnail_id=62113&utm_source=Agillic&utm_medium=email&utm_campaign=AN052
From the example link we can see that the recipient who clicked this link stems from Agillic and specifically from an email called AN052.
A URL parameter can both be static, meaning the value will remain the same regardless of which recipient clicks on the link, or it can be dynamic.
In a dynamic link, a value from a recipient's Person Data can be inserted as the parameter.
For instance you could have a link where you merge the recipients FIRSTNAME into a URL parameter in order to allow you to do logic on your external website based on this information.
https://agillic.com?FIRSTNAME=bond
On your external site, you could then write: "Hello there Bond"
Be careful to consider what types of personal data you put into the URL for GDPR compliance reasons.
Depending on the type of URL parameter you need, Agillic has a few possible options:
Google Analytics Integration
The Google Analytics Integration is ideal if you use Google Analytics and want to integrate it with Agillic. The integration ensures that your links have UTM Parameters added. Usually, the default UTM value shown will be 'Agillic', but it's also possible to set up custom UTM parameters if necessary.
Learn how to set up the Google Analytics Integration here.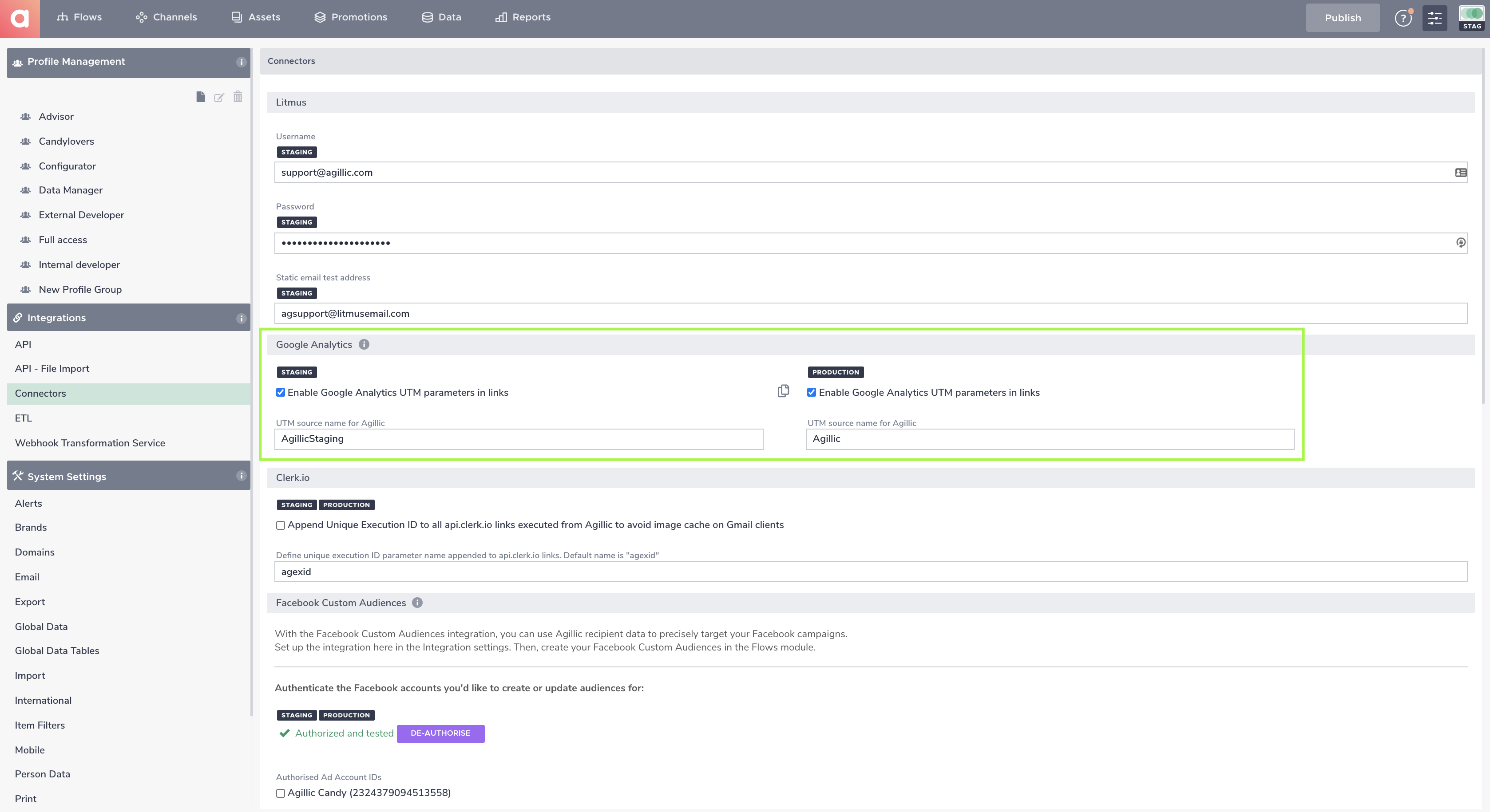 Google Analytics section under the 'Connectors' section in system settings

Global Link URL Parameters
You can use global link URL parameters to setup custom-made dynamic parameters to be added to all links in Agillic that are sent from a specific domain. The key value pair consists of a key that you set on every link and a value that's dynamically set based on a Person Data field. The parameter will be applied to any link pointing at the address that you specify.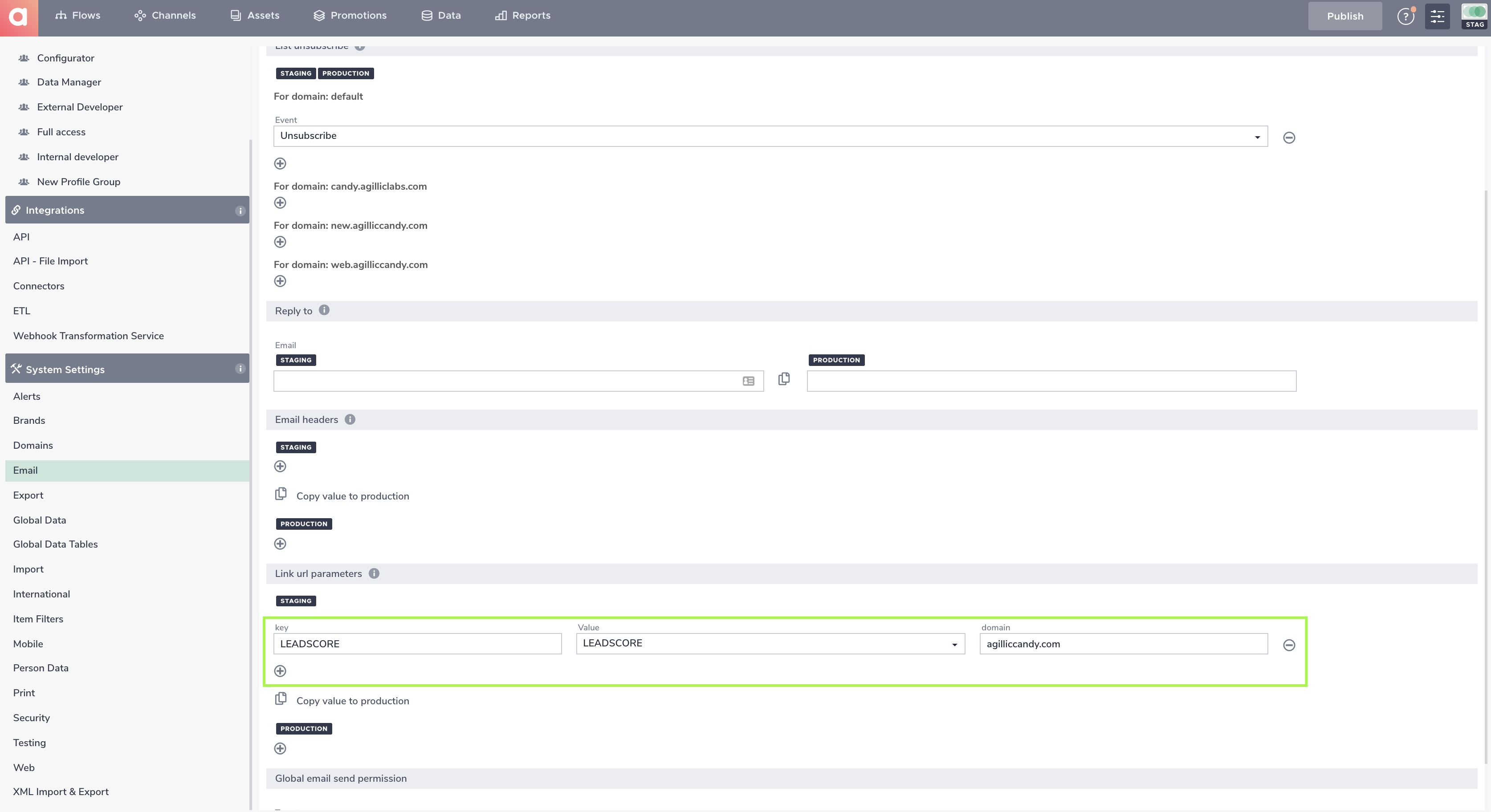 Setting up URL parameters that will be applied to any link to "agilliccandy.com"
Link URL Parameters per Individual Email
When needing specific URL parameters in a single email, you can open the 'Link URL Parameters' panel and set up custom dynamic parameters.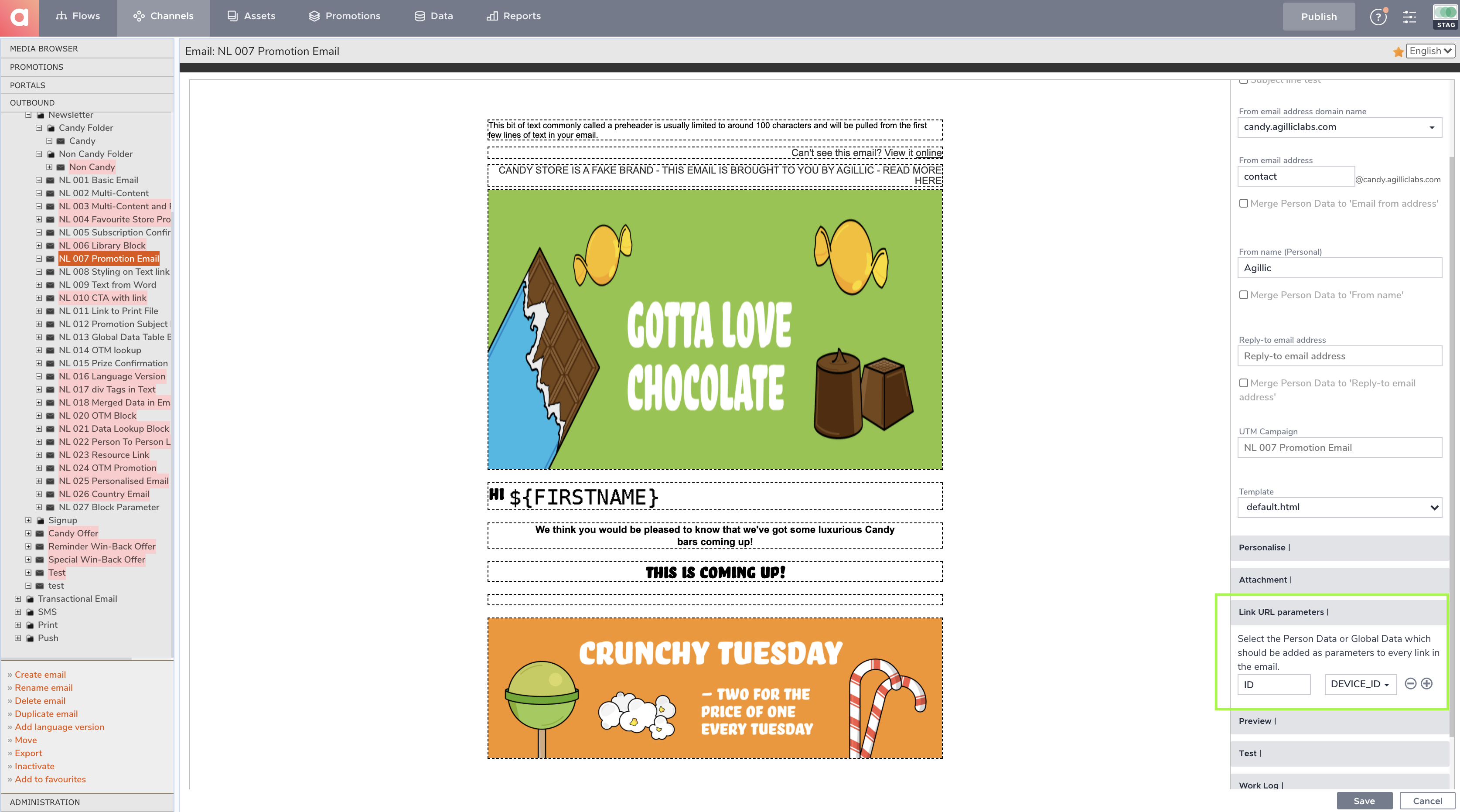 An email that has a URL parameter added to all links
Suggested Next Steps